The Allen County Board of Health will hold a reorganization meeting this evening at Citizens Square in downtown Fort Wayne, Indiana.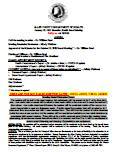 Download the agenda.

ALLEN COUNTY DEPARTMENT OF HEALTH
January 25, 2021 Executive Health Board Meeting
AGENDA


Call the meeting to order – Dr. William Pond

Meeting Reminder Statements – Mindy Waldron

Approval of the Minutes for the October 19, 2020 Board Meeting** – Dr. William Pond

Election of Officers – Dr. William Pond

Need to select a President and Vice President

BOARD APPOINTMENT REPORTS:

Health Commissioner's Report – (Dr. Matthew Sutter) – COVID-19 update
Administrator's Report – (Mindy Waldron) – COVID-19 update

CONSENT AGENDA: (one vote to accept all items below as submitted)** — (Mindy Waldron)

Personnel Report – (Mindy Waldron)
Sewer Board Appointment Report – (Mindy Waldron)

Old Business

New Business

Adjournment**

** Vote is/may be required

HERE ARE THE 2021 BOARD MEETING DATES 1/25/21, 4/19/21, 7/19/21, 10/18/21

Meeting Social Distancing Notes: The meeting will be held in the usual location, but participants will be spaced out by 6' at the front table area. Any media who is present will be asked to wear masks while in the room and to space themselves 6' from others. Any media interviews following the meeting will be conducted outside of the room or in a space deemed able to meet any distancing needs. If public attend the meeting, they will be asked to sit 3 seats apart from one another and with 2 rows between them. This will limit the number of public attendees inside the room at any one time, but the meeting will be recorded and available on local cable television in accordance with normal practice. There will not be a public comment period during this meeting unless extenuating circumstances present themselves where it is necessary and then if so, it will be coordinated to ensure social distancing and cleaning of presentation area equipment.

MEDIA NOTE: No questions will be entertained and no interviews will be conducted on the items listed on the agenda above prior to the Board Meeting. All media inquiries will be conducted at the conclusion of the meeting. Thank you for your understanding and cooperation.
Click here for the latest COVID-19 pandemic posts.
Related Images: