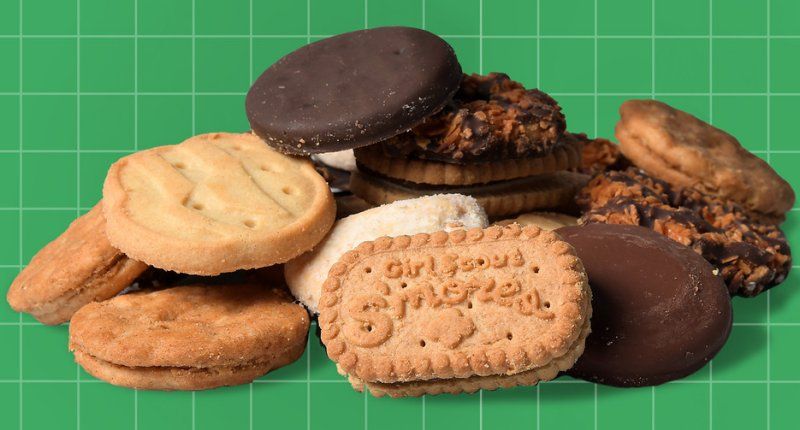 This year's Girl Scout Cookie Sale ends March 15, 2021.
Girl Scout Week is a great time to support Girl Scounts
Annual cookie program coincides with faith community recognition

(Fort Wayne, IN) – Girl Scouts of Northern Indiana-Michiana are not slowing down as they finish the annual cookie sale while marking Girl Scout Week March 7-13, 2021.

Girl Scout Week is celebrated each March and always includes the Girl Scout birthday, March 12, the day in 1912 when Juliette Gordon Low officially registered the organization's first 18 girl members in Savannah, Ga.

Girl Scouts has a long tradition of celebrating with faith communities during Girl Scout Week. Girl Scout Week faith observances can be celebrated by any faith group. In 2021, the celebration dates include:

Girl Scout Sunday (Christian)—Sunday, March 7
Girl Scout Jummah (Muslim)—Friday, March 12
Girl Scout Sabbath/Shabbat (Jewish)—Friday/Saturday, March 12-13

What better way to mark Girl Scout Week than by helping to build female entrepreneurs through the annual Girl Scout Cookie Program? Selling cookies teaches girls how to run their own small businesses and learn skills such as money management, goal-setting, people skills, business ethics and decision making. Girls decide as a troop how to use their cookie proceeds to fund leadership experiences, camp and community service projects.

Cookies in GSNI-M are on sale through Monday, March 15, and cost $4 a package, $5 for gluten-free. Here are several contact-free ways to purchase cookies:

At area cookie booths. To find a location near you, enter your ZIP code in the "Find Cookies!" tool at https://www.girlscoutsnorthernindiana-michiana.org/ or download the mobile app, Girl Scout Cookie Finder, on your smartphone.
Through Girl Scouts' personal "Smart Cookies" platforms.
In Fort Wayne only, via GrubHub on Mondays and Wednesdays from 4 to 6 p.m. Order at this link: https://www.grubhub.com/r/w/2556925/restaurant/2556925
Email iwantcookies@gsnim.org and we will connect you with a local Girl Scout who will offer you the opportunity to order online and have cookies delivered safely in person or shipped from the baker.
The Girl Scouts "Care to Share" option lets you buy cookies and donate them to first responders, volunteers and local causes.

For more information or to register, visit https://www.girlscoutsnorthernindiana-michiana.org/.

About Girl Scouts® and Girl Scouts of Northern Indiana-Michiana
Today, as when founded in 1912, Girl Scouts® helps cultivate values, social conscience and self-esteem in young girls, enabling them to succeed as leaders today and tomorrow. Girl Scouts of Northern Indiana-Michiana provides leadership experiences for over 4,500 girls ages 5-17. They are guided by more than 2,500 adult volunteers who mentor them and work behind-the-scenes to support Girl Scouts and our mission of building girls of courage, confidence, and character, who make the world a better place.
Read more AFW posts on the Girl Scouts.
Related Images: