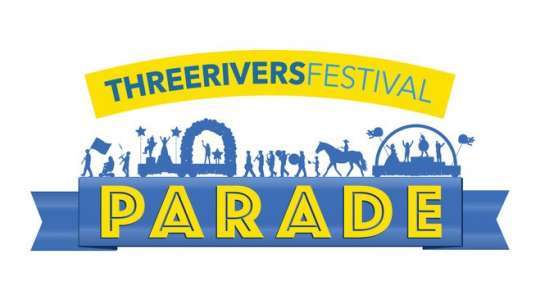 Three Rivers Festival news release announcing the 2021 Three Rivers Festival Parade Theme.
Three Rivers Festival Announces 2021 Parade Theme
Three Rivers Festival Parade Presented by Steel Dynamics: Coming Together: Fort Wayne's Past, Present, & Future

Fort Wayne, Indiana (March 3, 2021) – While a lot of things were stalled this past year, Fort Wayne really never lost its momentum. New parks, buildings, and businesses have helped bring Fort Wayne alive with a new spirit of pride in who we are and what we have to offer as a warm and inviting city. With the opening of Promenade Park and The Landing as well as the many new residential & commercial projects in store, it's important to look at where we have been, are, and will go as a community, together.

Each July, more than 50,000 of our closest friends and neighbors line the streets of downtown Fort Wayne to witness the floats, hear the bands, and celebrate our community at the official kickoff to the Three Rivers Festival. This year's Three Rivers Festival Parade theme celebrates the value of community: "Coming Together: Fort Wayne's Past, Present, & Future." 2021 is a year to commemorate the warm-heartedness of Fort Wayne, its people, and its Three Rivers Festival. Jaylon Smith, of the Dallas Cowboys, will be returning home to Fort Wayne to serve as one of our parade Grand Marshals, representing Fort Wayne's "present". Sammie Vance, founder of Sammie's Buddy Bench Project, will be servings as our "future" Grand Marshal, and for the first time in the parade's history, we will have a posthumous Grand Marshal, who will represent Fort Wayne's past. Hana Stith, one of the first African-American teachers hired by Fort Wayne Community Schools and co-founder of the African/African-American Museum. You can visit the festival website to learn more about this year's Grand Marshals.

"We are inspired by our city's past and present, while holding great excitement for what is in store for the future of Fort Wayne," said Jack Hammer, Executive Director. "We can't wait to see the creativity from our parade participants celebrating everything Fort Wayne is, was, and will be." Parade organizers are looking forward to a joyous and safe parade celebration for participants, neighbors, visitors, and onlookers of all ages.

The Steel Dynamics Three Rivers Festival Parade will take place on Saturday, July 10 at 10:00 a.m. Parade Applications are due April 30, 2021.

About Three Rivers Festival
Since 1969, the Three Rivers Festival has grown to become Indiana's second largest summer festival, an annual nine-day community celebration. The Three Rivers Festival is a not-for-profit organization, funded entirely by vendor participation fees, souvenir sales, refreshments & entertainment ticket sales, and the generous sponsorship and support of area businesses.
View more Three Rivers Festival posts on AFW.
Related Images: