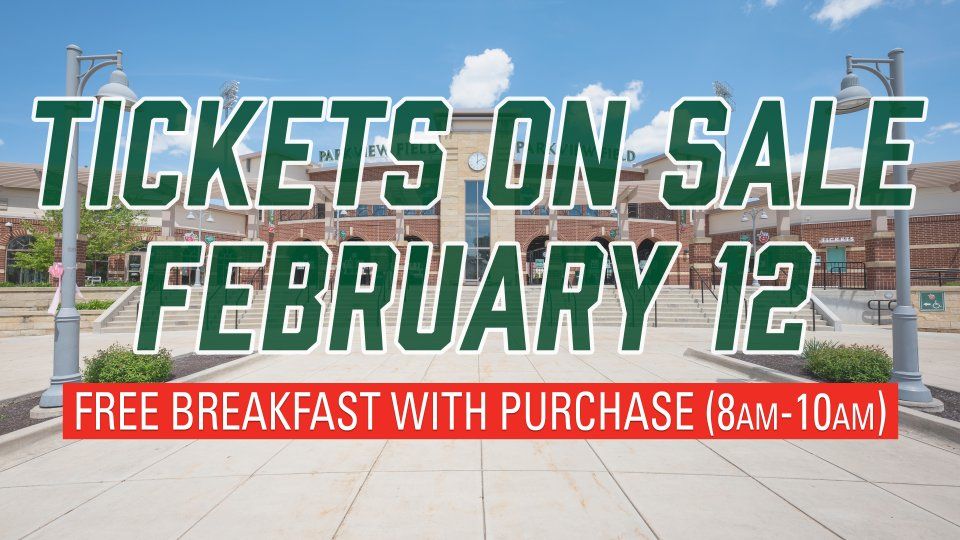 A news release from the TinCaps:
TinCaps 2020 Individual Game Tickets on Sale Feb. 12
Free Breakfast for Fans Who Purchase Tickets at Parkview Field on Feb. 12

(January 22, 2020) – Tickets to individual games for the 2020 Fort Wayne TinCaps season at Parkview Field are set to go on sale on Wednesday, Feb. 12, beginning at 8 a.m.

Fans can purchase their tickets in person at Parkview Field, by calling 260-482-6400, and at TinCapsTickets.com. For fans that purchase tickets at Parkview Field between 8-10 a.m. on Feb. 12, the TinCaps are offering a free breakfast buffet in the ballpark's Suite Level Lounge.

"There's always lots of anticipation for Opening Day," TinCaps President Mike Nutter. "This year there's an even greater sense of excitement as we unveil a brand new video board and other enhancements to Parkview Field. But before we get there, our annual tickets on sale breakfast is a sign that the season is just around the corner."

Opening Day at Parkview Field is Monday, April 13 (6:05 p.m.) when the TinCaps host the Cincinnati Reds-affiliated Dayton Dragons.

The team's 70-game regular season home schedule concludes on Labor Day, Sept. 7. Along the way, the TinCaps are home on the Fourth of July, which is one of nearly 30 fireworks nights. (Click here for the team's full schedule.) The TinCaps plan to release their 2020 promotional schedule—full of fireworks, theme nights, and national entertainers—on their social media channels between now and Feb. 12.

Through 11 seasons at Parkview Field, the TinCaps have hosted almost 5 million fans for games and welcomed another 1 million-plus for non-baseball special events. Parkview Field is perennially ranked as not only the best ballpark experience at the Class A level, but in all of Minor League Baseball.

On the field, the TinCaps enter their 22nd season as an affiliate of the San Diego Padres, who are considered to have one of the best farm systems in baseball, including 19-year-old shortstop prospect CJ Abrams, who figures to start the season in Fort Wayne. The team recently announced that manager Anthony Contreras will lead the team's field staff for a fifth consecutive year.

While individual tickets to all games go on sale Feb. 12, fans can currently purchase season tickets and book group outings. For more information, visit TinCaps.com or call 260-482-6400.

In anticipation of the season, the TinCaps are currently hiring seasonal employees. Job seekers can apply at TinCapsJobs.com.
Related Images: