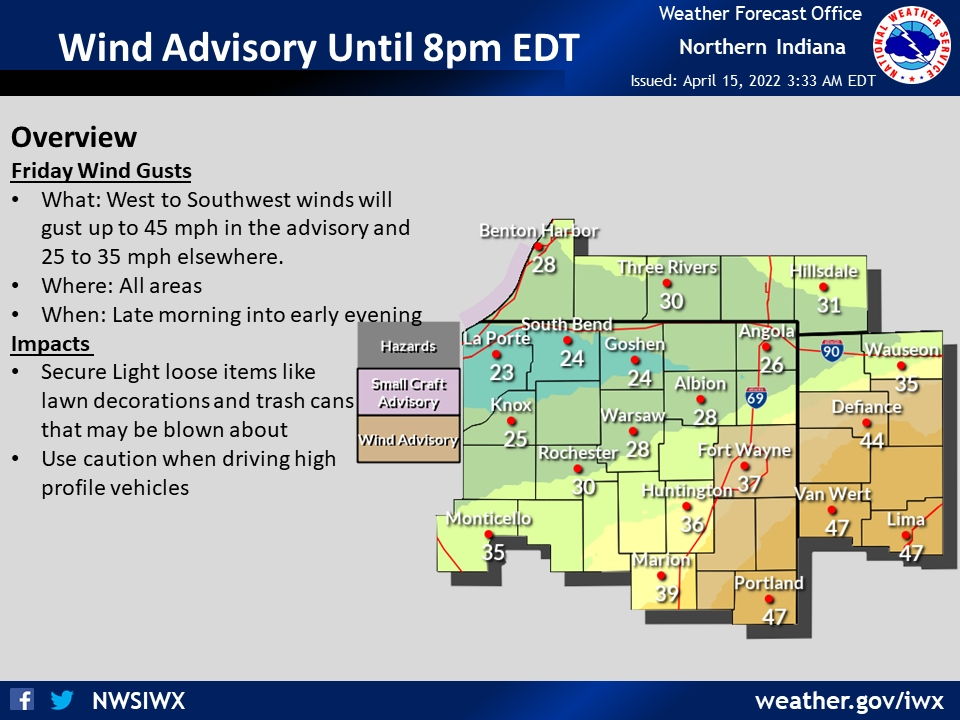 This post contains outdated information.
The National Weather Service has issued a Wind Advisory in effect until April 15, 2022, at 8:00 pm.
URGENT – WEATHER MESSAGE
National Weather Service Northern Indiana
250 PM EDT Fri Apr 15 2022

INZ018-026-027-033-034-OHZ004-005-015-016-024-025-160000-
/O.CON.KIWX.WI.Y.0007.000000T0000Z-220416T0000Z/
Allen IN-Wells-Adams-Blackford-Jay-Defiance-Henry-Paulding-Putnam-Van Wert-Allen OH-
Including the cities of Fort Wayne, New Haven, Bluffton, Ossian, Decatur, Berne, Hartford City, Montpelier, Portland, Dunkirk, Defiance, Sherwood, Hicksville, Napoleon, Deshler, Liberty Center, Paulding, Antwerp, Payne, Ottawa, Leipsic, Columbus Grove, Continental, Pandora, Van Wert, Ohio City, Lima, and Spencerville
250 PM EDT Fri Apr 15 2022

…WIND ADVISORY REMAINS IN EFFECT UNTIL 8 PM EDT THIS EVENING…

WHAT…Southwest winds 15 to 25 mph with gusts up to 45 mph.
WHERE…Portions of northern Indiana and northwest Ohio.
WHEN…Until 8 PM EDT this evening.
IMPACTS…Gusty winds could blow around unsecured objects. Tree limbs could be blown down and a few power outages may result.

PRECAUTIONARY/PREPAREDNESS ACTIONS…

Use extra caution when driving, especially if operating a high profile vehicle. Secure outdoor objects.