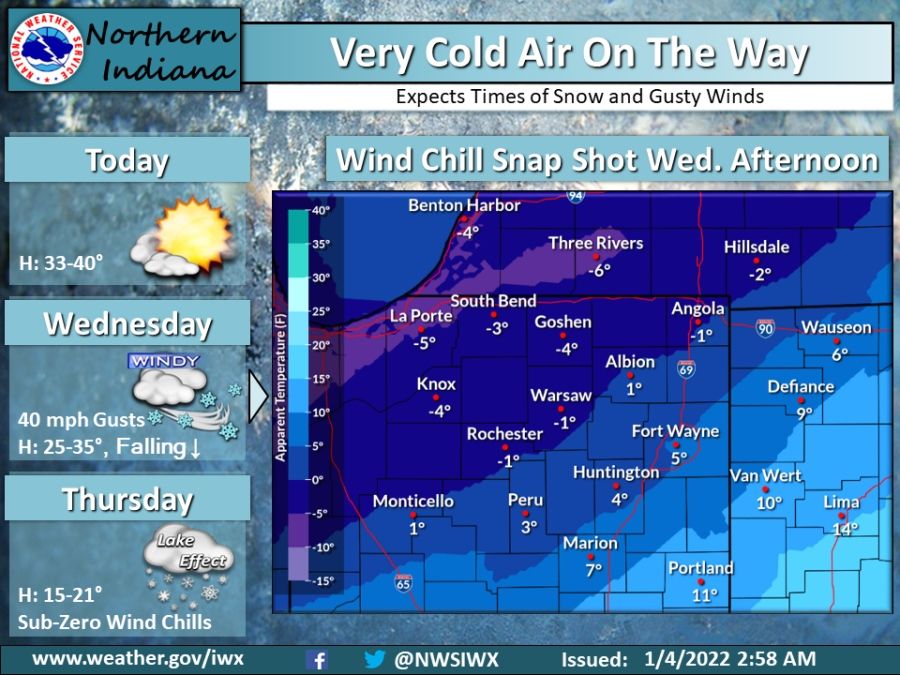 This post contains outdated information.
The National Weather Service forecasts a cold front will usher in falling temperatures and arctic air through the day Wednesday.
Today's Fort Wayne, Indiana weather story from the National Weather Service:
Very cold air on the way
Expect times of snow and gusty winds

Fort Wayne, Indiana (January 4, 2021) – A quiet day will be in-store today with partly cloudy skies and seasonable temperatures. However, a cold front will usher in very cold air and temperatures will drop through the day Wednesday. Lake effect snow will be most possible for areas north of the Toll Road with snow showers or flurries outside of the lake effect belt on Wednesday. More lake effect snow is possible on Thursday. Temperatures drop into the teens and single digits Wednesday night, and Thursday will struggle to reach higher than around 20 degrees. Sub-zero wind chills will be possible Wednesday into Thursday morning and again Thursday night. Be sure to bundle up if you're outside.
The latest National Weather Service weather story | Official National Weather Service Northern Indiana website