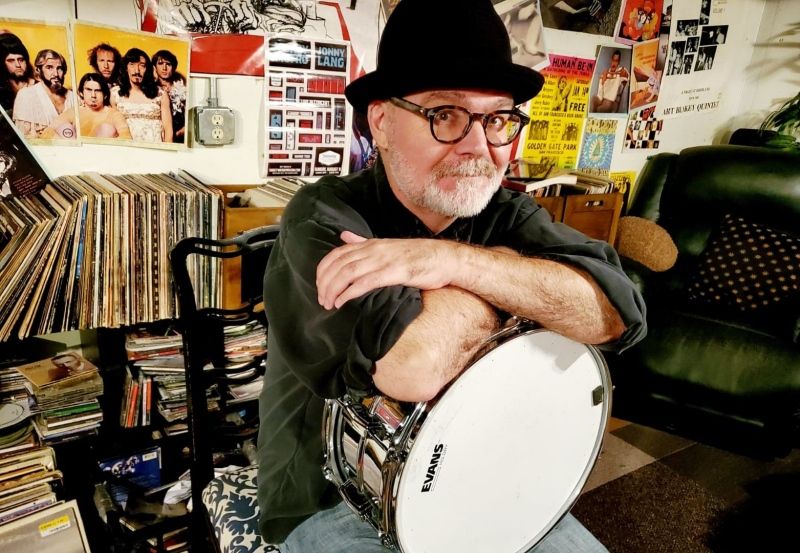 The Embassy Theater will host the Todd Harrold Band this Wednesday, June 16, 2021 and the True Colors: A Celebration of Pride program on Friday, June 18, 2021.
This Week At The Embassy – Todd Harrold Band at Summer Nights & True Colors: A Celebration of Pride

Fort Wayne, Indiana (June 15, 2021) – The Embassy is pleased to announce two great events this week. The theater will host the Todd Harrold Band this Wednesday, June 16 at Summer Nights at the Embassy. The event is open from 5 to 9 p.m., with music starting at 6 p.m. The presenting sponsor for the series is Chuck & Lisa Surack and Sweetwater. Embassy Presents sponsors are The James Foundation and Fort Wayne Metals. Associate sponsors are TriCore Logic and Premier Bank.

Based in Indiana, Todd Harrold has the unusual job of being a drummer/lead singer. He has fronted his own band since 1991, and his vocal style has been compared to Bill Withers, Boz Scaggs and Gil Scott Heron.

He has won the Whatzup Magazine Jazz Artist of the Year eight times (he has also won two Whatzup R&B Artist of the Year awards) and has shared the stage with The Derek Trucks Band, The Doobie Brothers, Govt Mule, Lalah Hathaway, Leon Russell, Marcus King Band, Ike Stubblefield, Tommy Castro, Kenny Neal, the Bodeans, Leftover Salmon, Bill Watrous, Tom "Bones" Malone, Melvin Rhyne, and KC and the Sunshine Band.

He has appeared in Modern Drummer, Down Beat, Relix, and Performing Songwriter Magazines. Todd has seen the release of eight albums under his own name and hosts a weekly radio show, The Burnt Toast Show, on WBOI 89.1 FM or www.WBOI.org, on Sunday nights 8pm – 11pm EST.

The featured food partner this week will be Club Soda. Mad Anthony Brewing is the Microbrew Sponsor. A cash bar and concessions are available as well. The Embassy offers an indoor/outdoor experience with access to the Parkview Health Rooftop Patio where patrons can hear the live music and see Fort Wayne's spectacular skyline. Summer Nights is a rain or shine event. If weather is not favorable for rooftop viewing, patrons can enjoy the full show in the ballroom.

Fans of the Embassy can get a sneak peek of the event through the Summer Nights Live Band Cam that broadcasts every Wednesday from 6 -9 p.m. when the featured band or artist is performing at https://vimeo.com/event/1042637 or by visiting http://fwembassytheatre.org/2021-summer-nights/. The link will be shared prior to show time on the Embassy's Facebook and Instagram pages as well.

Next week's featured performer will be The Adam Strack Band, and our food partner will be Shigs In Pit. The remaining season lineup can be found at http://fwembassytheatre.org/2021-summer-nights/ (subject to change).

Single tickets for all Summer Nights events are $5, plus applicable fees. Purchase tickets at the STAR Bank box office (260.424.5665) or through ticketmaster.com.

June 16 Summer Nights Ticketing Link: https://www.ticketmaster.com/todd-harrold-band-fortwayne-indiana-06-16-2021/event/05005AB0C9F020A6

The second event this week is the long awaited True Colors: A Celebration of Pride that was announced last fall. The Embassy Theatre and Three Rivers Music Theatre are partnering to present this special show on the Embassy stage this Friday, June 18 at 8 p.m.

True Colors is a part of Three Rivers Music Theatre's cabaret series and will honor northeast Indiana's vibrant LGBTQIA+ community. The show features iconic hits of pop music, stage, and screen that celebrate unity, individuality, equality and love. Local drag performers Tilda Whirl and Vera Vanderwoude (Fort Wayne's 2021 Pride Ambassador) will be hosting the event. This show is a perfect way to celebrate Pride Month right here in Fort Wayne.

Three Rivers Music Theatre received an AWS Foundation grant that paved the way for two American Sign Language interpreters from DeafLink to be at this performance to make this a deaf and hearing impaired accessible production.

There will be a post-show mixer at Conner's Kitchen + Bar, across Harrison Street, next to the Embassy. The mixer is presented in partnership with Fort Wayne Pride. Conner's is sponsoring their patio where they will offer a menu of appetizers, specialty cocktails, beer, and wine. Cash only. ATM on-site.

Tickets for True Colors are $30 ($20 for students), plus applicable fees. Purchase tickets at the STAR Bank box office (260.424.5665) or through ticketmaster.com.

True Colors: A Celebration of Pride Ticketing link: https://www.ticketmaster.com/true-colors-acelebration-of-pride-fort-wayne-indiana-06-18-2021/event/05005941B73E10DB

Activities at the Embassy are made possible in part by Arts United of Greater Fort Wayne and the Indiana Arts Commission, which receives support from the State of Indiana and the National Endowment for the Arts.

Download the True Colors program.

About the Embassy Theatre
Built in 1928, the Embassy Theatre is Indiana's largest self-sustaining historic theater. Originally known as the Emboyd, with the adjoining seven-story Indiana Hotel, the majestic movie palace and vaudeville theater introduced Indiana to the biggest stars of stage and screen. Today, the Embassy is listed on the National Register of Historic Places. Combining the beauty of a bygone era with the energy and diversity of today's performers, the Embassy is the showplace of Northern Indiana. Many choose to host events and weddings at the Embassy, as it offers flexibility and a unique event experience in an iconic piece of Fort Wayne history. Visit fwembassytheatre.org for more information.
Return to the AroundFortWayne home page.
Related Images: