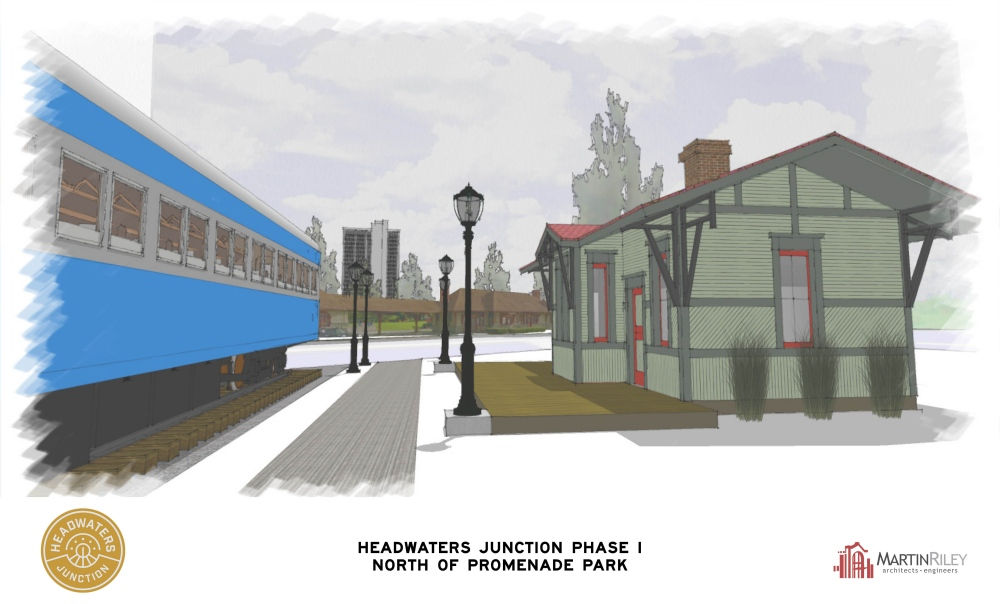 Phase I of Headwaters Junction announcement.
Headwaters Junction announces Phase I of Riverfront rail attraction
Project receives funding from Community Foundation, Journal Gazette Foundation, Shields Family Trust

Fort Wayne, Indiana (May 19, 2021) – Headwaters Junction Inc., a local non-profit organization dedicated to establishing a regional railroad attraction in Fort Wayne's burgeoning riverfront district, has begun Phase I of its development efforts at 1010 Cass Street just north of Promenade Park.

"After many years of developing the overall vision for Headwaters Junction and winning meaningful public support along the way, we're excited to finally be in a position to show very visible progress. This Phase I development will compliment Promenade Park and enhance the riverfront experience," explained Kelly Lynch, Executive Director of the organization.

Phase I will see the relocation of a historic railroad depot to the site where it will house an ice cream and coffee shop, as well as displays and exhibits related to the Headwaters Junction effort. The depot, constructed in 1879 and originally located on the Nickel Plate Railroad in Craigville, Indiana, was relocated to New Haven in the late 1970s where it was cared for by Edward Byer and his family. It was acquired by Headwaters Junction in 2018. Restoration of the all-wood structure has been underwritten by the Shields Family Trust.

The depot will be accompanied by a vintage rail passenger car, renovated for use as a lounge car that will be available for private events, and for eventual use on tourist railroad excursions and events. The car was built for the U.S. Army in 1953 and later used by Amtrak. It was donated to Headwaters Junction by the Fort Wayne Railroad Historical Society, Inc., one of the project's strategic partners. Renovation of the car has been underwritten by Don and Kathy Steininger.

Site development for Phase I has been made possible by a $100,000 grant from the Community Foundation of Greater Fort Wayne's Riverfront Fund and $15,000 from the Journal Gazette Foundation.

In July, 2020, Headwaters Junction and the City of Fort Wayne's Redevelopment Commission announced an agreement to facilitate the development of the overall Headwaters Junction project, with later phases to include a rail-yard park, hands-on interceptive facility, and operating tourist railroad near the riverfront.

Renovation and restoration of the depot and lounge car are nearing completion, with site construction to begin later this year with completion in 2022. For more information, visit headwatersjunction.com.
View more AroundFortWayne posts on Headwaters Junction.
Related Images: