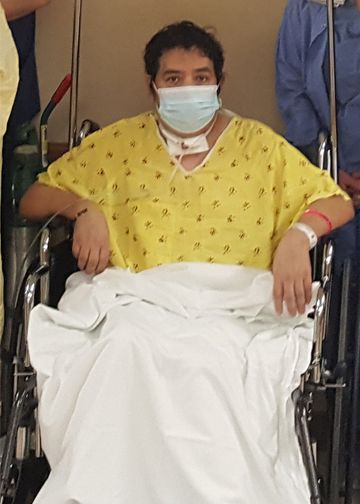 The story of Alejandro Zacavelazques who was treated at Lutheran Health Hospital using the VV ECMO Veno-Venous Extra Corporeal Membrane Oxygenation treatment.
ECMO Technology Saves Life of COVID Patient

Fort Wayne, Indiana (May 4, 2021) – When Alejandro Zacavelazques experienced shortness of breath and weakness, he sought care at Kosciusko Community Hospital's Emergency Department, where he tested positive for COVID-19.

Zacavelazques' oxygen level was so low that he required a breathing tube and was transferred to Lutheran Hospital's COVID ICU. His lung condition worsened and the breathing tube and ventilator were no longer sufficient to help him. The intensive care physicians called in the Cardiothoracic Surgery team, who placed Zacavelazques on VV ECMO (Veno-Venous Extra Corporeal Membrane Oxygenation), a mechanical assistance device that provides prolonged lung support.

Once Zacavelazques was COVID negative, he was transferred to Lutheran Hospital's Cardiovascular ICU. In this environment, he was able to walk with the VV ECMO machine with the assistance of nurses and physical therapists. After being supported on VV ECMO for two months, Zacavelazques was eventually weaned off the ventilator and transferred to a rehab facility. As time passed, he required less oxygen and showed progress.

"Alejandro sought help immediately and was able to get treatment early," said Hannah Copeland, MD, FACS, FACC, medical director, Heart Transplant at Lutheran Hospital."VV ECMO is a rescue therapy for lung failure that has helped patients with severe pneumonia, flu, asthma and now COVID. Early diagnosis and treatment is essential to survival."

Due to the lifesaving efforts of the ECMO team, Cardiothoracic Surgery, ICU doctors, nurses, physical therapists, and many other staff, Zacavelazques' condition was stabilized and organ function maintained.

"VV ECMO is a lifesaving option for severely ill COVID patients and can potentially help many, like Alejandro, survive severe acute respiratory distress illnesses and infections," concludes Copeland.

About Lutheran Health Network
The foundation of Lutheran Health Network is built on an experienced team of more than 6,600 employees working together with more than 800 physicians and advanced practice providers. The network's more than 100 access points in northeastern Indiana include acute care hospitals, specialty hospitals, physician offices, urgent care clinics, and outpatient centers. For more, visit lutheranhealth.net. Dupont, Lutheran, Rehabilitation, St. Joseph and The Orthopedic hospitals are owned in part by physicians.
COVID-19 World Wide Web Resources
Allen County Department of Health COVID-19 Guidance and Local Resources
State of Indiana Web Resources:
Other Web Resources:
Related Images: