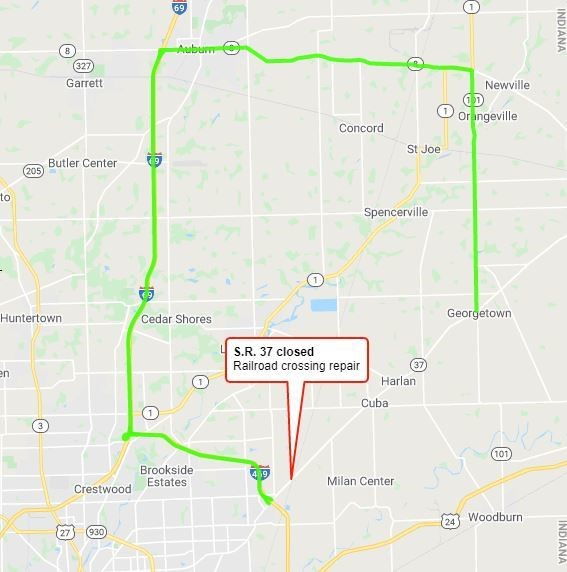 Indiana Department of Transportation news release announcing the closure of S.R. 37 next week for railroad repairs.
S.R. 37 to close next week for railroad repairs

Allen County, Indiana (April 1, 2021) – The Indiana Department of Transportation announces the closure of U.S. 37 for a railroad crossing repair.

Norfolk Southern is conducting the work just north of the I-469 and S.R. 37 interchange.

Motorists should use the posted detour of S.R. 101, S.R. 8, I-69 and I-469.

Work is expected to start on or after April 7 and will last for 3 days.

INDOT reminds motorists that all work is weather dependent and schedules are subject to change.

About the Indiana Hands-Free Law
In 2019, Indiana Criminal Justice Institute reported that distracted driving from mobile devices was a factor in at least 1,263 crashes and three fatal crashes. To make Hoosier roads safer, Governor Eric J. Holcomb signed the Indiana Hands-Free law to reduce distracted driving across the state. Beginning July 1, 2020, drivers are prohibited from holding a mobile device, except in emergencies, while their vehicles are moving. For more information on the new law visit https://www.in.gov/indot/4063.htm. Hands-Free Indiana is a partnership between the Indiana Department of Transportation, Indiana State Police, Indiana Criminal Justice Institute, Indiana Bureau of Motor Vehicles, Indiana Constructors Inc., Indiana Motor Truck Association and ACEC Indiana.

About the Indiana Department of Transportation
Over the past 100 years, INDOT has transformed the state of Indiana into the Crossroads of America we know today. With six district offices and 3,500 employees, the agency is responsible for constructing and maintaining more than 29,000 lane miles of highways, more than 5,700 bridges, and supporting 4,500 rail miles and 117 airports across the state. Indiana once again ranked #1 in the U.S. for infrastructure in CNBC's 2019 "America's Top States for Business" ranking. Learn more about INDOT at in.gov/indot.
View more AroundFortWayne posts from the Indiana Department of Transportation.
Related Images: