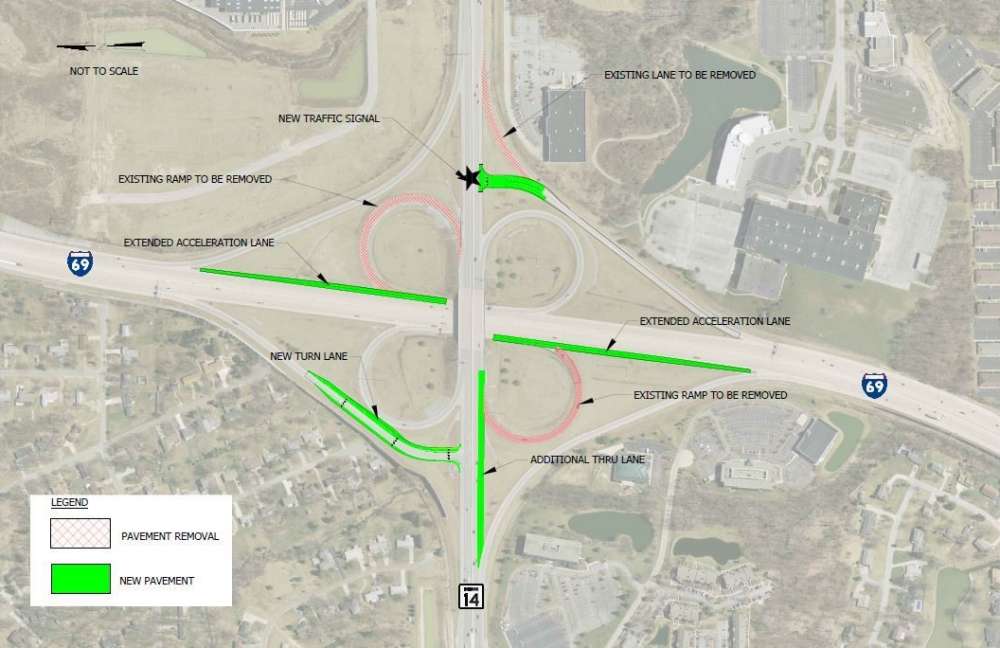 Indiana Department of Transportation news release regarding work on the I-69/S.R. 14 interchange.
Work to begin on safety and congestion improvements at the I-69/S.R. 14 interchange in Allen County

Allen County, Indiana (March 24, 2021) – The Indiana Department of Transportation announces work to be done to improve safety and congestion at the I-69 and S.R. 14/Illinois Road interchange.

Improvements include the removal of the northeast and southwest loop ramps and the realignment of the southeast diagonal ramp to intersect with S.R. 14/Illinois Road. The new intersection will include a new traffic signal.

The northwest and southeast exit ramps will be widened and sections of barrier wall on S.R. 14 will be removed to help accommodate for the addition of left-turn movements.

The northeast and southwest acceleration lanes will also be extended to help improve merge conditions on I-69.

S.R. 14 will be resurfaced from Scott Road to Magnavox Way. Curb and sidewalk work will also take place on this stretch of road.

Crews have already started placing construction signs in the area with work scheduled to begin on or after March 22.

During the project there will be temporary lane and shoulder closures to allow for work to be done. There will also be a maximum 14-day closure of the off ramp from I-69 northbound to eastbound Illinois Road, expected to take place in early May.

Access to all properties will be maintained throughout construction. Work is set to wrap up later this fall. All scheduled work is weather permitting and subject to change.

INDOT reminds motorists to use caution and consider worker safety when driving through a construction zone.

About the Indiana Hands-Free Law
In 2019, Indiana Criminal Justice Institute reported that distracted driving from mobile devices was a factor in at least 1,263 crashes and three fatal crashes. To make Hoosier roads safer, Governor Eric J. Holcomb signed the Indiana Hands-Free law to reduce distracted driving across the state. Beginning July 1, 2020, drivers are prohibited from holding a mobile device, except in emergencies, while their vehicles are moving. For more information on the new law visit https://www.in.gov/indot/4063.htm. Hands-Free Indiana is a partnership between the Indiana Department of Transportation, Indiana State Police, Indiana Criminal Justice Institute, Indiana Bureau of Motor Vehicles, Indiana Constructors Inc., Indiana Motor Truck Association and ACEC Indiana.

About the Indiana Department of Transportation
Over the past 100 years, INDOT has transformed the state of Indiana into the Crossroads of America we know today. With six district offices and 3,500 employees, the agency is responsible for constructing and maintaining more than 29,000 lane miles of highways, more than 5,700 bridges, and supporting 4,500 rail miles and 117 airports across the state. Indiana once again ranked #1 in the U.S. for infrastructure in CNBC's 2019 "America's Top States for Business" ranking. Click here to learn more about the INDOT.
Related Images: