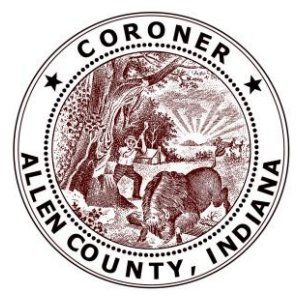 Allen County Coroner's news release for the 2021 8th Allen County Homicide.
Fort Wayne, Indiana (March 23, 2021) – The Allen County Coroner's Office was contacted and notified of a shooting incident on Friday, March 19, 2021 at about 9:25 am, in the 4400 block of Alverado Drive, Fort Wayne, Indiana. The decedent was located and found to be suffering from gunshot wound(s) and was transported to a local hospital. Death was pronounced a short time after arrival.

The autopsy has been completed. The decedent has been positively identified, but release of the name is being held pending official notification of the next of kin. Contact was made with the next of kin of Joyce Ann Carwile, female white 59 years of age, from Fort Wayne, Indiana.

The Cause of Death is Gunshot Wound(s) and the Manner of Death is Homicide.

Joyce Ann Carwile is the 8th Homicide in Allen County for 2021.

This incident remains under investigation by the Fort Wayne Police Department, the Allen County Prosecutor's Office and the Allen County Coroner's Office.
Download the Coroner's news release.
If you have information regarding this case, you can call the Greater Fort Wayne Crime Stoppers at (260) 229-7867 or toll-free at 1-800-237-7867. You can also use the P3 app on your Android phone or Apple phone here. They are also available on Facebook. You can submit your tip anonymously.
Related links:
Related Images: