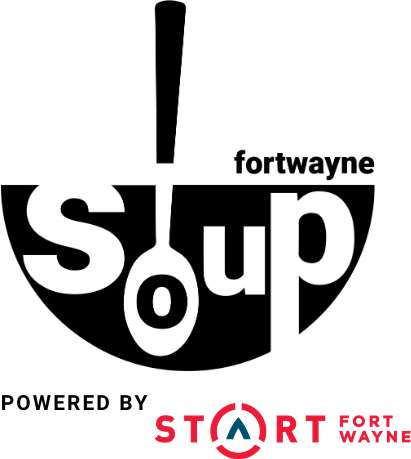 Fort Wayne SOUP news release announcing their first event of 2021.
Fort Wayne SOUP to host 1st virtual event of 2021 on April 22, 2021
Proposal Submission Deadline, March 26, 2021

Fort Wayne, Indiana (March 11, 2021) – Submissions are now being accepted for the 1st Fort Wayne SOUP event of 2021, which will take place virtually on April 22, 2021. Community members with ideas to improve or positively impact our region are encouraged to submit ideas for consideration. Ideas may be submitted through the website, fortwaynesoup.org, until March 26.

"In response to COVID-19, we moved our events online last year," said Amber Bouthot, Fort Wayne SOUP Executive Director. "The response to our virtual events has been extremely positive. Moving the events online has allowed more people to participate, thereby raising more money for the winning pitch. Now, more than ever, our community needs support and positivity. Our events are all about bringing the community together to support ideas that positively impact our region—and since we can't physically be together, we are creating a space online."

Tickets are now on sale for the event, as well. Individuals interested in casting a vote for their favorite idea may now reserve tickets on Eventbrite, which will provide ticket holders with a private voting link. Tickets are $5. All proceeds, as well as matching funds from sponsors, will be awarded to the pitch receiving the most votes.

Pitches will be posted to the Fort Wayne SOUP Facebook page on Friday, April 16. The general public is encouraged to post questions for presenters in the comments of each video and cast votes before 6pm on April 22. The winning pitch will be announced via Facebook live on April 22 at 8pm.

Fort Wayne Soup is micro-grant community event that uses crowd funding to help launch creative projects aimed to enhance Fort Wayne. At each SOUP event attendees hear 4 presentations on projects ranging from art, urban agriculture, social justice, social entrepreneurs, education, technology and more. To date, Fort Wayne SOUP has donated over $22,000 to a variety of projects that have positively impacted our community. All ages are welcome to attend and submit proposals.

About SOUP
Founded in 2017, Fort Wayne SOUP hosts micro-grant events that foster community and raise funds for creative projects that enhance Fort Wayne living. The public is encouraged to attend Fort Wayne SOUP events, as well as submit proposals that they wish to present. Proposals should have an underlying mission of improving the community of Fort Wayne and may be submitted for the upcoming events online at fortwaynesoup.org. A minimum of $5 donation is encouraged. The winner receives all the proceeds raised through ticket sales. Proceeds go towards making the winning pitch a reality.

Why SOUP Events Matter
Investing in our community is crucial for it to grow and thrive. Fort Wayne SOUP focuses on empowering those within our community who are looking to improve our city. Through crowdfunding, community support, and funds to make ideas come true, we can improve our community together.

We believe that by empowering residents to invest in their own community, we can create jobs, relationships and networks, promote action and change, foster critical dialogue, instill Fort Wayne pride, and encourage a deeper understanding of democracy.