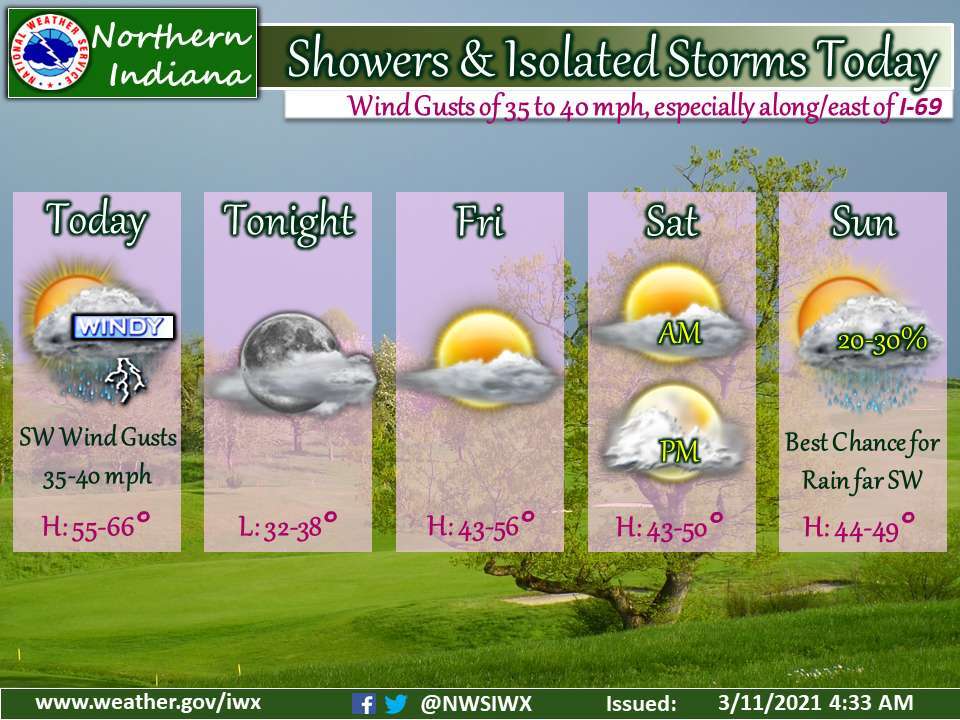 This post contains outdated information.
Today's Fort Wayne, Indiana weather story from the National Weather Service forecasting showers and isolated storms today:
Showers and isolated storms today
Wind gusts of 35 to 40 mph, especially along/east of I-69

Fort Wayne, Indiana (March 11, 2021) – Rain is likely today ahead of a cold front moving from east to west across the Great Lakes. There is a slight chance for thunderstorms. Ahead of the front expect southwest winds gusting to 35 to 40 mph, with the best potential along and east of Interstate 69. Skies will be mostly cloudy with highs in the low to mid 60s. Behind the front temperatures will be in the upper 50s and low 60s, with temps falling or remaining stable the day. Westerly winds behind the front will gust to around 20 to 30 mph and diminish by late afternoon, with decreasing cloud cover. Dry conditions are expected tonight into Saturday night, with lows in the 30s and highs in the 40s and low to mid 50s, warmest inland from Lake MI. On Sunday, we have low chances for rain showers in the southwestern forecast area. Highs will be in the 40s. More widespread chances for a rain/snow mix arrive on Sunday night and continue into Monday.
The latest National Weather Service weather story | Official National Weather Service Northern Indiana website
Related Images: