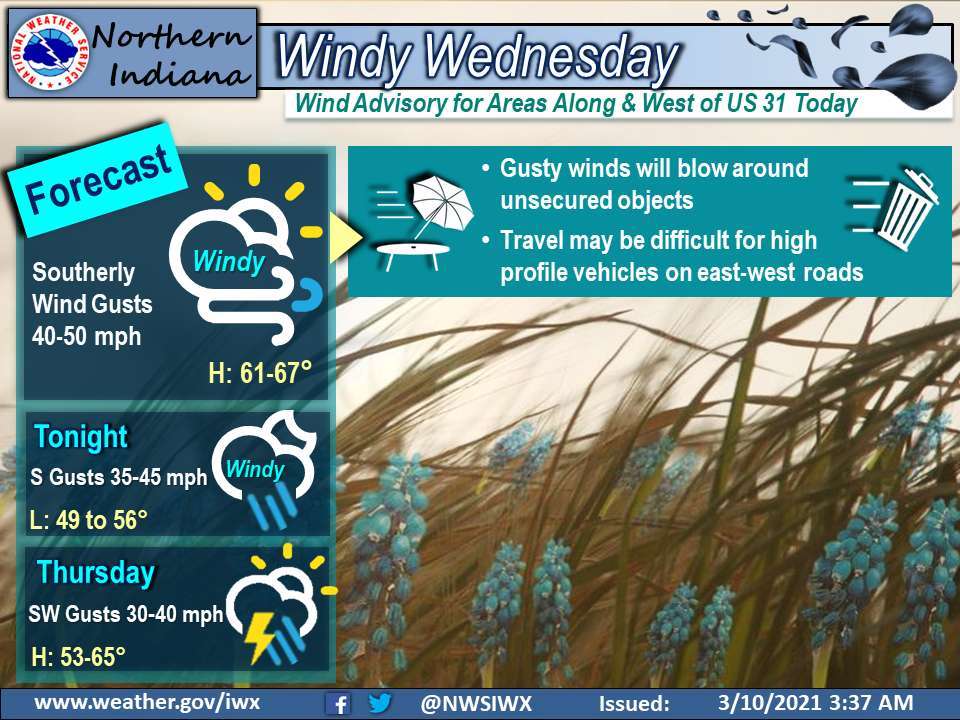 This post contains outdated information.
Today's Fort Wayne, Indiana weather story from the National Weather Service:
Windy Wednesday

Fort Wayne, Indiana (March 10, 2021) – It's windy Wednesday! Expect partly to mostly cloudy skies today, with highs in the 60s. Southerly wind gusts of around 40 mph are expected for most areas, however locations along and west of US 31 may see gusts closer to 45 to 50 mph, so there is a wind advisory in effect for those locations. Winds will continue to gust up to around 35-45 mph through the late evening before dying down a little bit overnight. They pick up once again on Thursday, with southwest winds gusting to around 30 to 40 mph at times, mainly along and south of US 24 in the afternoon. Otherwise, expect rain to move in this evening across the west and spread into the rest of the forecast area Thursday into Thursday night. Thursday we'll see highs in the 50s northwest and in the 60s central and east.
The latest National Weather Service weather story | Official National Weather Service Northern Indiana website