Video from the presentation of The Commission on Police Reform and Racial Justice's final report to Fort Wayne Mayor Tom Henry and Police Chief.
The presentation took place on March 9, 2021, at Citizens Square.
Speakers during the presentation:
After, we spoke with Fort Wayne City Councilwoman and Co-Chair Michelle Chambers, Co-Chair Joe Jordan who is the CEO of the Fort Wayne Boys and Girls Club, and Fort Wayne Police Chief Steve Reed.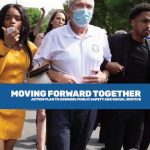 Download a copy of the Report's Executive Summary.
Related Images: