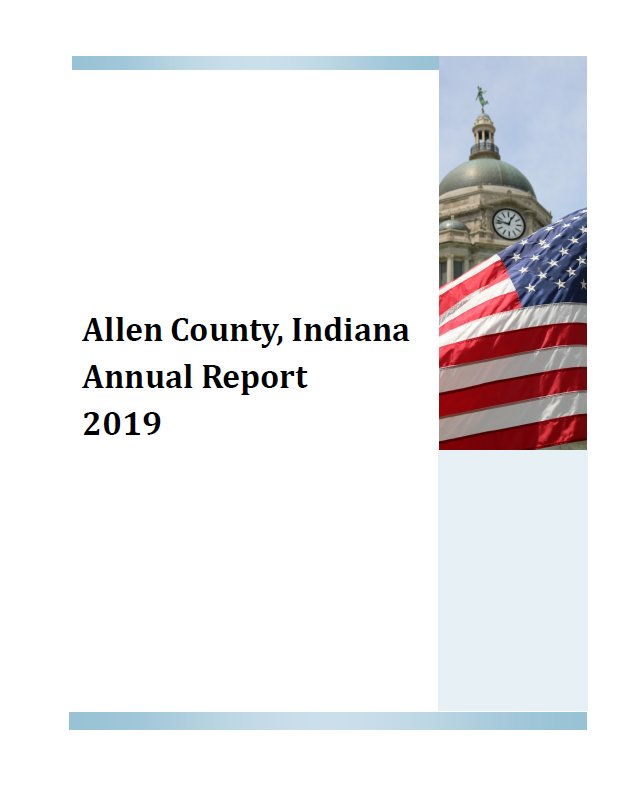 A news release from Allen County government:
2019 County Annual Report Released
Year in review to be available in print and online

(February 24, 2020) — The 2019 Annual Report for Allen County was released today by the Board of Commissioners' Public Information Office.

"We are pleased to present the Allen County Annual Report highlighting our ongoing efforts to improve the quality of life for all who call Allen County home," the board said in its message to county residents. "This annual report will provide an overview of what our staff members have worked on and accomplished over the past year, giving you as a resident a closer look at how your local government works behind the scenes to meet your needs."

Highlights of the 20-page comprehensive report include:

The value of commercial and residential building permits in the county topping $1 billion dollars for the third consecutive year;
A breakdown of general fund revenues and the distribution of the county general fund budget in 2019;
A review of efforts to enhance economic development in Allen County;
A recap of some of the major projects undertaken by the county Highway Department, including the conversion of 27 miles of gravel roads to chip-and-seal hard surfaces;
Reports from various County elected officials and departments under the direction of the Board of Commissioners;
The expansion of the Department of Environmental Management's already popular Tox-Away Tuesdays program to select Saturdays;
Development of a new strategic plan for county government;
Establishment of a new project in the County's fight against substance use disorder;
The objectives and goals of the Board of Commissioners in 2020; and
A list of current County elected officials and department heads.

The 2019 Annual Report is currently available online. It will also be distributed to public facilities throughout the community, including county government offices and branches of the Allen County Public Library.
Related Images: