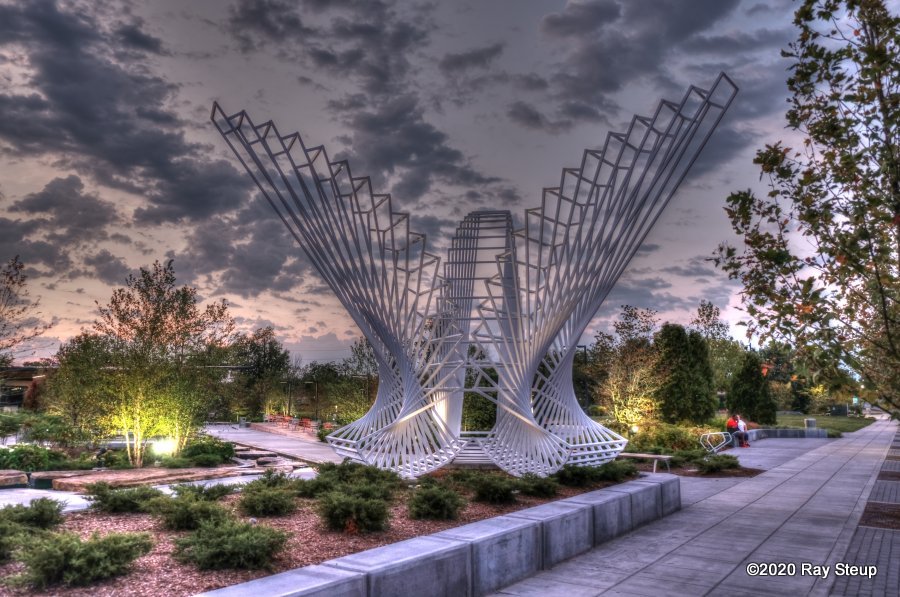 Art For All! Master Plan Outlines Big Ideas for Public Art

(January 29, 2020) – The City of Fort Wayne Public Art Commission tonight revealed its public art master plan, called Art for All!, filled with "big ideas" for advancing the community's public art program.

The plan highlights nine possible public art projects that could be implemented over the next decade. The projects are proposed as inspiration and conceptual in nature, and would be developed only if funding is available.

The project ideas include:

Open Walls Fort Wayne. This would allow street artists a legal opportunity to create murals throughout the community on walls owned by the City.
Arts and Culture Corridor Fort Wayne. An Arts and Culture Corridor could be developed along Rudisill Boulevard from Foster Park and the RiverGreenway to McMillen Park. Rudisill Boulevard provides ample business activity, community interests, and new market opportunities.
Faces of the Fort. This project shares large-scale murals of local faces throughout the community to elevate the stories of civil rights and social justice leaders as well as new Americans who have moved to Fort Wayne.
Topographic Light. This project features artist-designed light installations that showcase important architecture, such as the Lincoln Tower, Louis Kahn building and even underpasses and bridges.
Neighborhood Gateways and Gathering Spaces. This project enhances neighborhood identity through the use of murals, small sculptures and signs strategically placed at key locations in the City's many neighborhoods.
Riverfront Public Art Trail. Riverfront Fort Wayne is driving investment downtown and providing opportunities for gathering and recreation for all residents and visitors. Art along the riverfront could range from large-scale sculptures to murals and interactive pieces and should highlight the people of northeast Indiana and those who first gathered and settled along the rivers.
Discovery Walk. Discovery Walk is a unique concept that allows families to explore downtown while searching for small- and medium-sized icons. The icons can share something special about Fort Wayne and its history. They should have a multi-sensory aspect, such as a QR code that can be scanned to tell a story about northeast Indiana.
Grand Wayne Monumental Sculpture. Cities throughout the world have used large-scale public art installations to attract visitors and increase tourism. Fort Wayne could do the same through an investment in a large-scale piece at the Grand Wayne Center.
Fort Wayne Gateways. This concept builds on the ideas presented in the Front Door Fort Wayne Plan, the City's plan to enhance and improve primary gateways and commercial corridors. It calls for including public art along key corridors to promote a positive image to both residents and visitors.

"I am excited by the innovative and diverse project ideas presented in Art for All!" said Fort Wayne Mayor Tom Henry. "As Fort Wayne continues to grow, public art will play an even larger role in creating a welcoming environment, boosting tourism and contributing to economic growth in the region."

The celebration took place at the Arts United Center in the Ian Rolland Gallery, 303 E. Main St., and included a brief presentation and an opportunity for residents to visit nine interactive stations detailing the nine conceptual projects.

The City of Fort Wayne Public Art Commission and Arts United hosted the event as a wrap up to the year-long planning process for the Fort Wayne Public Art Master Plan. Designing Local, a consulting firm that specializes in public art planning, was hired to assist the Public Art Commission in creating the plan. They will attend the event and answer questions about the planning process and final recommendations.

The plan was created based on input from more than 2,000 residents. Consulants and Commission members interviewed stakeholders, hosted focus groups and pop-up events, tallied online survey responses and analyzed data submitted by residents on the Fort Wayne Public Art website. A wide variety of individuals provided feedback, including local artists, students, immigrants, refugees, neighborhood leaders, non-profit leaders and elected officials.

Members of the Fort Wayne Public Art Commission include: Réna Bradley, Jan Krist, Leonard Helfrich, Pam Holocher, Alec Johnson, Susan Mendenhall, John O'Connell, Mac Parker, Tim Parsley, Renata Robinson, Dan Ross, Paul Sauerteig, Charles Shepard, Theoplis Smith, Tom Smith, Paul Spoelhof, Nancy Stewart and Randy Strebig. Dan Baisden is the City's Public Art Program Manager.

Mayor Henry and the Fort Wayne City Council created the Public Art Program and Public Art Commission in March, 2018. The primary purpose of the Fort Wayne Public Art Program is to enliven and enhance the city through the promotion and integration of artworks into the public realm and assist with city-led beautification efforts. For more information and to read a copy of the Art for All! public art master plan, visit www.FortWaynePublicArt.com.
Related Images: