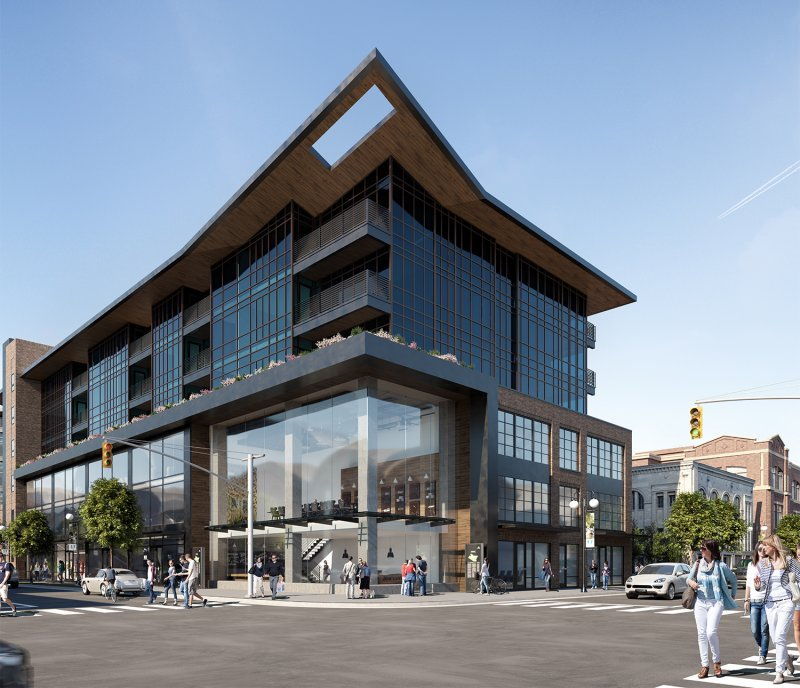 Mayor Henry announces selection of developer for major private investment on the riverfront
Downtown revitalization and momentum to continue with new $70+ million project

(September 18, 2019) – Mayor Tom Henry today announced the selection of Barrett & Stokely as the developer who plans to construct a project in excess of $70 million on the premier riverfront property located at the northeast corner of Harrison and Superior streets, east of Promenade Park. It signifies a major private investment as part of riverfront development efforts in Fort Wayne.

Barrett & Stokely, an Indianapolis-based company, was chosen from among a group of five firms that submitted requests for proposals (RFP) to be considered as the developer. A selection committee comprised of Redevelopment Commissioners, City of Fort Wayne staff, Capital Improvement Board representative, a representative from the Allen County Board of Commissioners, and a representative from Land Collective, the consultant team leading the Riverfront Implementation Framework, oversaw the RFP process.

Project highlights:

$70+ million investment
225 apartments, 900-space parking garage, approximately 30,000 square feet of office space, nearly 15,000 square feet of retail space, and approximately 15,000 square feet of flex space
Construction anticipated to start in late 2019 or early 2020 and will take a year and a half to complete

The Premiere Riverfront at Promenade Park at Harrison and Superior Streets. Rendering provided by Barett & Stokely, developer of the project.

The next steps in the process will include creating an economic development agreement between Barrett & Stokely and the City of Fort Wayne and going through the required approval processes to move the project forward to eventual construction.

"Fort Wayne continues to be on a positive roll with yet another new investment planned in the heart of our city. Barrett & Stokely has a proven track record of developing successful projects and will be a welcome addition to our community." said Mayor Henry. "Having additional housing, retail, and parking options will further strengthen Fort Wayne's position as a point of destination for job growth, new private investment opportunities, and unique amenities that emphasize the importance of the live, work, and play model."

"We're looking forward to being part of the successful downtown revitalization efforts taking place in Fort Wayne," said Rex Barrett, executive vice president, Barrett & Stokely. "It's great to see the tremendous growth and positive activities that Fort Wayne is experiencing. The momentum and excitement attracted us to Fort Wayne and we're ready to get started and be a great partner with the Fort Wayne community."

Barrett & Stokely is also working with the City on The Lofts at Headwaters Park, a mixed-use development along Clinton and Superior streets in downtown Fort Wayne that would feature housing, retail, and a parking garage.

Earlier this year, the Fort Wayne Redevelopment Commission terminated an economic development agreement with a developer to build a mixed-use project at this site because the developer could not meet the conditions of that agreement.
Related Images: