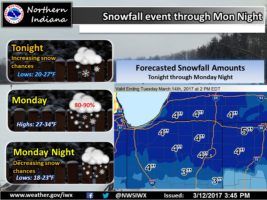 Tonight's weather story from the National Weather Service:
Snowfall event through Monday night

(March 12, 2017) – A low pressure system will start bringing in snowfall chances to the area tonight through Monday night. Total snowfall accumulations of 3-5″ are expected across the area. Although areas in the southern part of the County Warning Area are expected to see the least amount of snow where temperatures will be the warmest and some partial melting could occur. Slick roads will become possible late tonight through Monday evening. The snowfall chances will be increasing tonight as the system begins to move into the area. Highest snowfall chances are on Monday, and then they decrease during Monday night. Monday's morning and evening commutes will likely be affected. A Winter Weather Advisory is in effect for late tonight into Monday night. Please go to https://www.weather.gov/iwx for the latest detailed forecast information.