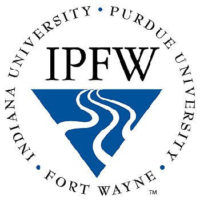 News release from IPFW:
IPFW Ranks Among Best in Nation for CPA Exam Pass Rate

(February 14, 2017) — The National Association of State Boards of Accountancy (NASBA) recently announced the results of the 2016 Uniform CPA Examinations. Among medium-sized programs, Indiana University-Purdue University Fort Wayne's (IPFW) Department of Accounting and Finance, in the Doermer School of Business, ranked No. 38—in the top 13th percentile—in the nation for its students' first-time pass rate.

"This positive outcome is a reflection of the dedication to student learning that is a hallmark of our accounting faculty," said Carl Drummond, vice chancellor of academic affairs and enrollment management. "Students in our post-Baccalaureate certificate in accounting receive outstanding academic preparation at a reasonable cost of tuition."

With 32 total candidates in 72 sections, IPFW's accounting students had a 62.5 percent pass rate and an average score of 76.8, according to NASBA. The nationwide first-time pass rate was 54.4 percent.

"We are very proud of our students and we believe this is one more reason why IPFW is such a great value," said Janet Papiernik, associate professor of accounting and chair of the Department of Accounting and Finance. "I feel very honored to be a part of the Doermer School of Business and proud of the academic achievement of our students."

For more information, please contact Kathy Pollock, associate professor of accounting, at 260-481-5751 or pollockk@ipfw.edu.
Related Images: