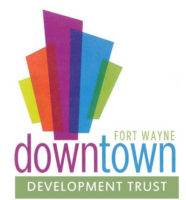 News release from the City of Fort Wayne and Fort Wayne Downtown Development Trust:
The Landing Redevelopment Announcement

(October 26, 2016) – The Fort Wayne Downtown Development Trust, working in concert with the City of Fort Wayne and the Community Foundation of Greater Fort Wayne, will host a downtown event, The Landing Unveiled, at the Arts United Center on Thursday, October 27. The program begins promptly at 6pm. Prior to the program, a cocktail hour begins at 4:30pm. Mayor Tom Henry is scheduled to attend the event.

"A little over a year ago, we sought a developer who was best capable, financially and by demonstrated experience, to execute this important redevelopment initiative and to remain committed to The Landing's success for years to come," Mac Parker, president of the Trust, said.

The Landing's redevelopment will represent the most significant mixed use redevelopment of existing downtown property in decades. The Community Foundation of Greater Fort Wayne's Executive Director, David Bennett adds, "The Foundation is pleased to support The Landing project. It is a unique community treasure and functionally supports the initial phases of the catalytic riverfront development."

On Thursday evening, Steve Smith, Model Group CEO, will unveil the latest renderings and design concepts for the project. In support of The Landing, several groups will present the latest renderings for surrounding projects, like riverfront development, redevelopment of the Arts United campus, and Superior Lofts. Members of Young Leaders of Northeast Indiana (YLNI) will also be on hand to express support for the community's ongoing downtown revitalization.

"Headquartered in Cincinnati, Model Group possesses the extraordinary business and community culture to successfully execute a truly transformational plan for The Landing," Parker said. "They have market-leading experience in using the best tools available to turn vision and plans into reality."

Evidence of Model Group's resume of successful redevelopment can be found primarily in the Over-The-Rhine (OTR) community in Cincinnati. OTR is the largest intact, national historic district and the largest collection of Italianate architecture in the country. Other successful redevelopment projects include Trinity Flats, Forest Square, and Shawnee Place. Local firm MKM Architecture + Design will lead the design team, with Zach Benedict listed as the lead architect.

The Trust's selection of the Model Group represents the next building block toward renewal of The Landing, which will help cement downtown Fort Wayne as a place where people want to live, work, and play, and as a regional destination serving all of northeast Indiana.
Related Images: