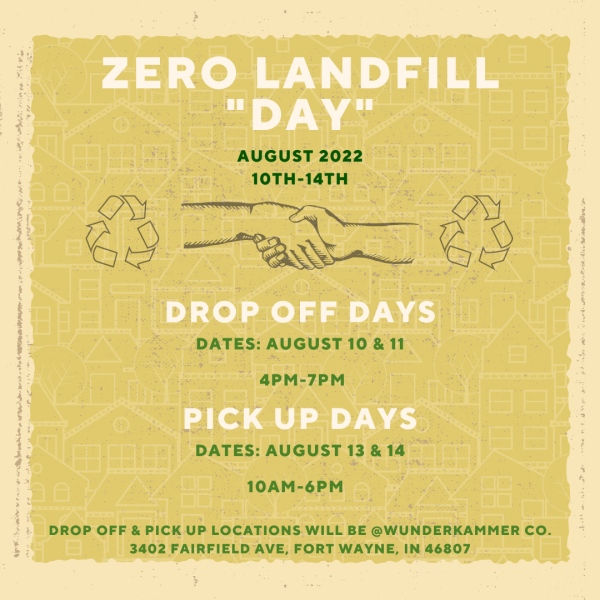 Fort Wayne Zero Landfill Day 2022 will take place on August 13th and 14th, 2022, at the Wunderkammer Company.
Wunderkammer Company is proud to host Fort Wayne Zero Landfill Day 2022!

Fort Wayne, Indiana (August 5, 2022) – This is one of our favorite annual events that we've been hosting for the last few years. Zeroland Fill events happen all around the United States and started in Cleveland, OH.

Here's the basic idea:

We are putting way too much in our landfills.
Many businesses receive samples they ultimately can't use, have excess/lightly damaged inventory that can't be used.
Many teachers and creatives are working on razor thin budgets.

SO: Let's ask environmentally conscious local businesses (think interior designers, architects, advertising firms, etc) to "donate" their "waste that isn't garbage", and allow teachers, creatives, and whoever needs interesting materials to pick up the donations for free!

Please consider stopping by Saturday August 13th and Sunday August 14th (10am- 6pm each day) to check out all of the donations! Help us spread the word, and give your favorite businesses a heads up that they are welcome to participate!

Teacher form (what materials they are interested in/need).
https://docs.google.com/forms/d/e/1FAIpQLScQJIKRTp1tR94pzKbTcaQpLg2DsXBPmTbMMgjwMJHY9ohK-A/viewform

Business donor form (what materials they have to donate!).
Return to the AroundFortWayne home page.
Related Images: