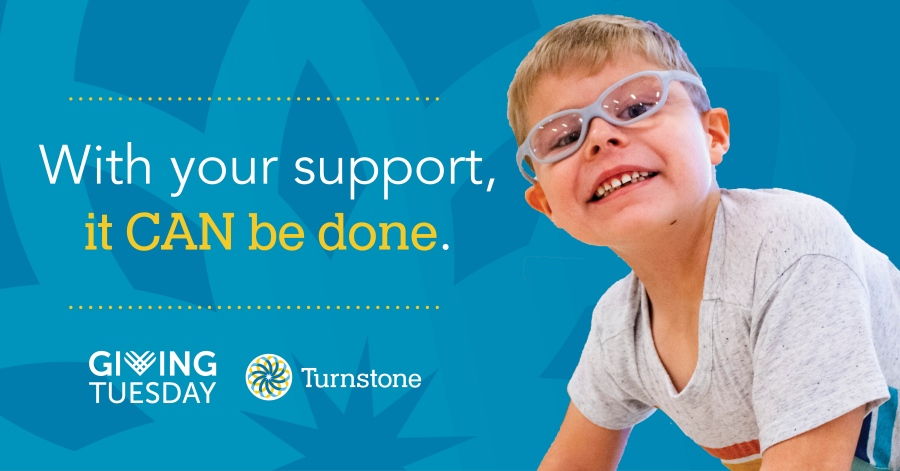 The community is invited to celebrate #GivingTuesday on November 30 by donating to Turnstone Center.
Turnstone Center news release:
#GivingTuesday Highlights Community Support At Turnstone

Fort Wayne, Indiana (November 29, 2021) — The community is invited to celebrate #GivingTuesday on November 30 by making a donation to Turnstone Center. And this year, gifts to Turnstone on #GivingTuesday will create double the impact because AWS Foundation has agreed to match gifts $1 for $1 up to $10,000. Especially on #GivingTuesday and during the holiday season, Turnstone wants you to know that it's because of its countless supporters in the Turnstone Family that "it CAN be done."





Spurred by Turnstone's "It Couldn't Be Done" video launched in honor of the organization's birthday on October, 5 and in preparation for #GivingTuesday, Turnstone has been sharing stories from the Turnstone Family throughout the month of November on its website and social media channels. Content highlights the many groups of supporters, including individuals and organizations, that make Turnstone's mission possible and lead up to tomorrow's #GivingTuesday holiday, an annual global day of generosity. Links to posted stories can be found on Turnstone's website.

On #GivingTuesday, Turnstone will feature three more stories of individuals who have helped make possibilities a reality for thousands of people with disabilities. Stay tuned to read these stories as they are released online throughout the day.

"Turnstone wants to continue creating possibilities for people with disabilities," says Rena Shown, Turnstone's Chief Development Officer. "We also want our community and Turnstone Family to know that we appreciate all of their efforts to make it happen. We couldn't do it without them."

In the "It Couldn't Be Done" video, viewers are given a peek into the daily life of Turnstone clients Alfred, Mason, and Cami, accompanied by the narration of Edgar Allan Guests' original poem of the same name, "It Couldn't Be Done." The video was intended to reveal just some of the possibilities that have been created at Turnstone Center. Stories that have been told following the debut of the "It Couldn't Be Done" video include stories of advocates, volunteers, community partners, and so on.

For more information about celebrating #GivingTuesday this year with Turnstone, visit https://turnstone.org/itcanbedone.

About Turnstone
Turnstone's mission is to empower people with disabilities to achieve their highest potential by providing one of the most comprehensive offerings of service and programs to people with disabilities and their families under one roof in the United States. Thanks to generous support and compassionate staff, Turnstone's legacy of advocacy and innovation continues to contribute to a world that accepts and values people based on their abilities. This legacy now includes the privilege of functioning as the home training facility for the U.S. Men's and Women's National Goalball Teams and the goalball resident program through a partnership with the United States Association of Blind Athletes (USABA). www.turnstone.org.
Return to the AroundFortWayne home page.
Related Images: