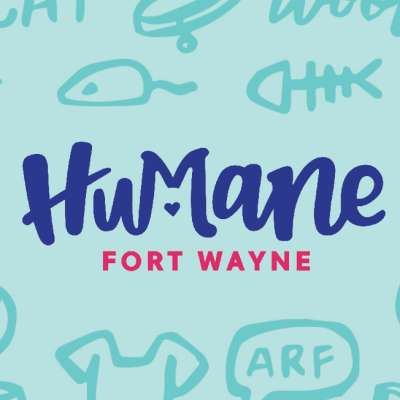 Humane Fort Wayne hopes to see record giving on GivingTuesday – November 30, 2021 – as all gifts will be matched (up to $15,000) thanks to several generous sponsors.
Humane Fort Wayne news release:
Humane Fort Wayne Seeks to Meet $15,000 Match for GivingTuesday

Fort Wayne, Indiana (Nov. 23, 2021) – Humane Fort Wayne hopes to see record giving this GivingTuesday! On November 30, 2021, all gifts will be matched (up to $15,000) thanks to a number of generous sponsors.

"GivingTuesday is the single largest donation day of the year for us, and because we receive no tax dollars, it's crucial to our lifesaving mission," says Jessica Henry, Executive Director of Humane Fort Wayne.

Now more than ever, Humane Fort Wayne is committed to serving pets and the people who love them. With the Allen County SPCA and H.O.P.E. for Animals merged as one organization, that means double the pets can be saved, but that also means double the expenses to keep both locations running. That's why Humane Fort Wayne is asking the community to help double the giving on November 30, 2021. All funds received on GivingTuesday will support local pets and pet owners through Humane Fort Wayne's comprehensive adoption, pet retention, low-cost spay/neuter, and wellness clinic programs.

To donate online, visit humanefw.org. Donations can also be made by phone by calling the shelter at 260-744-0454.

For more details on the GivingTuesday movement, visit www.GivingTuesday.org.

About Humane Fort Wayne
At Humane Fort Wayne, we believe that when pets have safe, forever homes, they thrive. And with their loving companionship, so do we. From adoption and pet retention programs, to spay/neuter and wellness services, to community outreach and education, we work tirelessly to prevent the incidence of euthanasia and to promote the happiness, safety and well-being of pets and the people who love them. Visit humanefw.org to learn about our lifesaving programs.

About #GivingTuesday
GivingTuesday is a global generosity movement unleashing the power of people and organizations to transform their communities and the world. GivingTuesday was created in 2012 as a simple idea: a day that encourages people to do good. Over the past eight years, it has grown into a global movement that inspires hundreds of millions of people to give, collaborate, and celebrate generosity.

Whether it's making someone smile, helping a neighbor or stranger out, showing up for an issue or people we care about, or giving some of what we have to those who need our help, every act of generosity counts and everyone has something to give. GivingTuesday strives to build a world in which the catalytic power of generosity is at the heart of the society we build together, unlocking dignity, opportunity and equity around the globe.
Return to the AroundFortWayne home page.
Related Images: