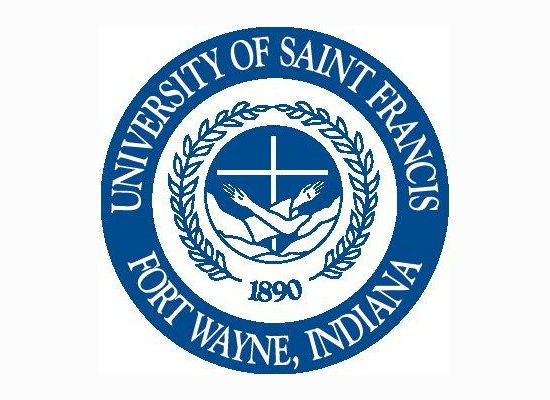 The University of Saint Francis will host the President's Art Gala on September 11, 2021, at the Mimi and Ian Rolland Art and Visual Communication Center.
USF to host President's Art Gala

Fort Wayne, Indiana (August 10, 2021) – The University of Saint Francis will host the President's Art Gala on September 11 at the Mimi and Ian Rolland Art and Visual Communication Center.

The event will run from 6 to 9 p.m., and will include hors d'oeuvres, a cash bar, live music featuring the eclectic and unique sounds of KelsiCote, and a meet-and-greet with USF President Rev. Dr. Eric Albert Zimmer. It is free and open to the public. The Rolland Center is located off Leesburg Road on the southeast side of campus, 2701 Spring Street.

The featured artist for the gala will be Mexican American artist Herman Aguirre, who will also present a lecture at 6 p.m. on September 9 at the USF North Campus Auditorium, 2702 Spring Street. Based in Chicago, Aguirre received the Leonore Annenberg Fellowship for the Performing and Visual Arts and was a fellow at the Fine Arts Work Center (FAWC) residency in Provincetown, Massachusetts, where he also taught youth programs at the Provincetown Art Association Museum (PAAM). In addition, he is represented by Zolla/Lieberman Gallery in Chicago and Portrait Society Gallery in Milwaukee. He holds bachelor's and master's degrees from the School of the Art Institute of Chicago, where he is also an instructor.

Aguirre will also present a student workshop and focused critiques within the USF Division of Creative Arts.

The President's Art Gala Artist Spotlight Gallery will also display large-scale mixed-media works by USF alumna Karina Serapio Rendon. She holds a master's degree from Miami University, Oxford, Ohio, and a bachelor's degree from USF.

In addition, more than a dozen local and regional artists will be featured in the Outdoor Sculpture Invitational.

3Rivers sponsors the President's Art Gala exhibition and artist lecture.

For more information, contact USF Creative Arts at 260-399-8064 or Molly McGowan at mmcgowan@sf.edu.

About the University of Saint Francis
Founded in 1890 in the Catholic Franciscan tradition, the University of Saint Francis offers more than 60 undergraduate, graduate and doctoral programs through the College of Health Sciences, College of Arts, Sciences, and Business and College of Adult and Distance Education. In addition to its traditional programs, USF designs focused curricula for working adults in Fort Wayne, Crown Point and online. USF Downtown houses the university's business and music technology programs while offering enhanced internship and networking opportunities for students. The University of Saint Francis campus experience includes 18 athletic programs boasting two individual and four team NAIA national championships and is recognized as an NAIA Five-Star Champion of Character institution. Approximately 2,200 students from a broad geographic region attend USF.
Return to the AroundFortWayne home page.
Related Images: