On July 17, 2021, Humane Fort Wayne unveiled their LoveSeats public art project to the Fort Wayne community.
The project was in partnership with Leadership Fort Wayne, Greater FW Inc., and Bob Rohrman Subaru of Fort Wayne. The 25 seats were unveiled in Freimann Square.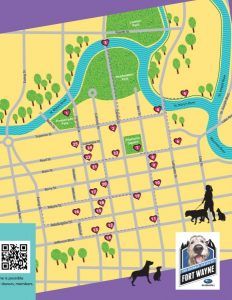 Download a map of the locations here. For more information on the LoveSeats public art project, click here.
Webmaster's note: Photos will be added over the next week or so.
Return to the AroundFortWayne home page.
Related Images: