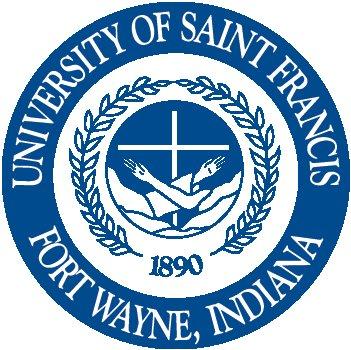 The Jesters program of the University of Saint Francis presents a traveling exhibit through July 21, 2021, at the Allen County Public Library.
USF Jesters program presents exhibit at Allen County Public Library

Fort Wayne, Indiana (July 7, 2021) – The Jesters program of the University of Saint Francis presents a traveling exhibit through July 21 at the Allen County Public Library, 900 Library Plaza.

The exhibit features 10 didactic panels with photos and program information and can be viewed in the Great Hall of the library.

Founded by the University of Saint Francis in 1978, the Jesters is an intergenerational, interdisciplinary performing arts program for people with mild to severe intellectual/developmental differences (IDD), ages 8 through senior citizens. The purpose of the Jesters is to enhance quality of life for people with IDD by engaging them in the creative arts. The vision is to help people with IDD develop self-expression, self-esteem, socialization, and other life skills while providing learning opportunities to the USF community and the community at large.

The Jesters program annually serves 150 people with IDD. Customized arts education activities include summer explorations, a core weekly academic-year program (September through March), training for other organizations, guest artist residencies, an improvisational group mentored by The Second City in Chicago, service learning for students, and community integration opportunities.

The Jesters program operated virtually in 2020-21, due to COVID-19 precautions. The program added a new goal: bridging the digital divide. The year culminated in the Jesters' first virtual performance and the traveling exhibit. USF plans to continue offering a hybrid Jesters program to include virtual components.

Registration for the 2021-22 program year will begin in August. For more information, contact USF Creative Arts at 260-399-8064 or Jesters Director Allison Ballard at aballard@sf.edu.

The Jesters program is made possible by the support of the AWS Foundation, The James Foundation, Inc., the Community Foundation of Greater Fort Wayne, the M.E. Raker Foundation, the Indiana Arts Commission and the National Endowment for the Arts.

About the University of Saint Francis
Founded in 1890 in the Catholic Franciscan tradition, the University of Saint Francis offers more than 60 undergraduate, graduate and doctoral programs through the College of Health Sciences, College of Arts, Sciences, and Business and College of Adult and Distance Education. In addition to its traditional programs, USF designs focused curricula for working adults in Fort Wayne, Crown Point and online. USF Downtown houses the university's business and music technology programs while offering enhanced internship and networking opportunities for students. The University of Saint Francis campus experience includes 18 athletic programs boasting two individual and four team NAIA national championships and is recognized as an NAIA Five-Star Champion of Character institution. Approximately 2,200 students from a broad geographic region attend USF.
Return to the AroundFortWayne home page.
Related Images: