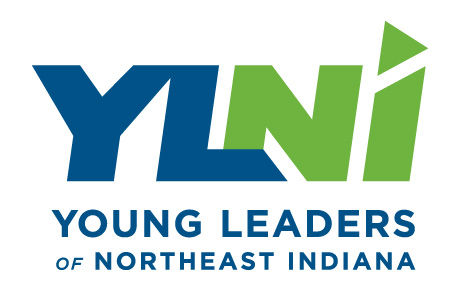 Young Leaders of Northeast Indiana (YLNI) has named 16 emerging leaders to its board of directors starting July 1, 2021.
2021-2022 YLNI board of directors announced

Fort Wayne, Indiana (June 30, 2021) – Young Leaders of Northeast Indiana (YLNI) has named 16 emerging leaders to its board of directors starting July 1. The board of directors, which meets monthly, is the governing body of YLNI that guides the organization to fulfill its goals. This year's board features five members appointed to their first two-year terms. New board members are listed in BOLD.

Justin Hayes will serve as YLNI's new president. Hayes succeeds Savannah Robinson, who served as president since 2018 and was term-limited.

Justin Hayes, president, Lake City Bank
Chris Polhamus, vice president, JH Specialty Inc.
Meg Saxman, secretary, Community Foundation of Greater Fort Wayne
Kyler Mills, treasurer, Baden Gage & Schroeder LLC
Brandon Noll, director at large, executive committee, Northeast Indiana Regional Partnership
Ian Broad-White, vice president, leadership development, Parkview Behavioral Health Institute
David Curry, vice president, fund development, Lake City Bank
Rachel Batdorff, vice president, membership, Franklin Electric
Chelsea Wolpert, vice president, community impact, Flint & Walling
Giang Petroviak, vice president, social programming, Purdue University Fort Wayne
Sierra Grayson, vice president, communications, WebMechanix
Beth Johnson, director at large, Fund Development, USI Consultants, Inc.
Eri Means, director at large, communications, JH Specialty
Kristin Conley, director at large, leadership development, Indiana Tech
John Hudson, director at large, community impact, Fort Wayne Community Schools
Andrew Ginter, director at large, technology, Intellectual Technology, Inc.

YLNI Mission:

To attract, develop and retain emerging leaders through community, professional and social engagement.

1000+ person network
Social and cultural events throughout the year like the YLNI Farmers Market, Hot Spots, and more
Immersive community involvement that makes a real difference
Six development initiatives are providing active members with valuable leadership development and networking opportunities
Personal/professional development programs available to YLNI network
Networking "Hot Spots" ongoing since June 2005 to build a YLNI community

YLNI Vision:

Northeast Indiana is an attractive region influenced by diverse, emerging leaders who are engaged, inclusive and attached to their community.

The YLNI Story
The concept took root years ago when there was a lot of talk about the "brain drain," a reference to the large number of young professionals leaving Indiana to live and work in other states. In 2004, the Northeast Indiana Corporate Council started surveying groups of young professionals to find out what they wanted from their community. The Council wanted to know how to attract and retain talented young professionals in northeast Indiana.

The young professionals surveyed started networking, became friends, and found they had a lot in common. Since the community at large was interested in what they had to say about life in Fort Wayne, they realized that, as a group, they had the ability to influence the direction of economic and cultural growth. Far from becoming a part of the brain drain, they organized themselves into Young Leaders of Northeast Indiana, more resolved than ever to see their region succeed.

Truly, the growth of northeast Indiana is what YLNI has been about since its inception. Since then, more than 1,000 members have joined the ranks and made a big impact on the community and themselves. We have a lot of big ideas in the works, and even more on the horizon.
Return to the AroundFortWayne home page.
Related Images: