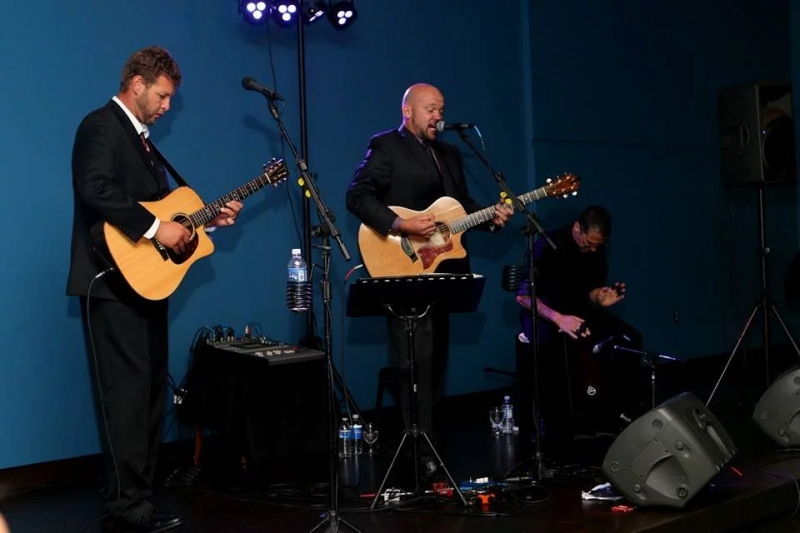 The Embassy is pleased to present The Adam Strack Band at Summer Nights and the Eliza Toth CD Release Show.
This Week At The Embassy – The Adam Strack Band at Summer Nights & Eliza Toth CD Release Show

Fort Wayne, Indiana (June 21, 2021) – The Embassy is pleased to present two great events this week. The theater will host The Adam Strack Band this Wednesday, June 23 at Summer Nights at the Embassy. The event is open from 5 to 9 p.m., with music starting at 6 p.m. The presenting sponsor for the series is Chuck & Lisa Surack and Sweetwater. Embassy Presents sponsors are The James Foundation and Fort Wayne Metals. Associate sponsors are TriCore Logic and Premier Bank.

Adam Strack is a full-time guitarist and singer in Fort Wayne since 2008. He plays cover music in a solo, duo or full band setting performing a variety of styles including classic rock, alternative rock, reggae, country and bluegrass. He comes from a family of musicians who played together for a decade in the 90s. Adam has been performing in front of live audiences for over 25 years and has played at most of the local venues including the Embassy, Three Rivers Festival, Parkview Stadium, The Phoenix, Columbia Street West, Country Heritage Winery as well as most local bar/restaurants that feature live music.

Adam has also had the privilege of playing in many projects and open jams with other talented local artists including Anthony Wilson, Tim Sewell, Hubie Ashcraft, Chris Dodds, Brian Lemert, Kenny Taylor, G-Money, Scott Schwan, Jamie Simon, Matt Kempf, Sunny Taylor, Todd Kabisch and others. The Adam Strack Band has played at Federated Media's "Rock n Brew" at Parkview Stadium, "Wine Splash" events in Fort Wayne and South Bend, as well as fundraising events for Junior Achievement, Children's Hope House, Hear Care, RISE in Angola and MDA. He enjoys giving back to the community. Adam performs and DJs at weddings and events wherever there is a want for live music.

The featured food partner this week will be Shigs In Pit. Mad Anthony Brewing is the Microbrew Sponsor. A cash bar and concessions are available as well. The featured (limited quantity) drink this week at the Embassy bar is Frozé (frozen rosé). The Embassy offers an indoor/outdoor experience with access to the Parkview Health Rooftop Patio where patrons can hear the live music and see Fort Wayne's spectacular skyline. Summer Nights is a rain or shine event. If weather is not favorable for rooftop viewing, patrons can enjoy the full show in the ballroom.

Fans of the Embassy can get a sneak peek of the event through the Summer Nights Live Band Cam that broadcasts every Wednesday from 6 -9 p.m. when the featured band or artist is performing at https://vimeo.com/event/1042637 or by visiting https://fwembassytheatre.org/2021-summer-nights/. The link will be shared prior to show time on the Embassy's Facebook and Instagram pages as well.

Next week's featured performer will be Sunny Taylor, and the food partner will be Hoppy Gnome. The remaining season lineup can be found at https://fwembassytheatre.org/2021-summer-nights/ (subject to change).

Single tickets for all Summer Nights events are $5, plus applicable fees. Purchase tickets at the STAR Bank box office (260.424.5665) or through ticketmaster.com.

June 23, 2021's Summer Nights ticketing link: https://www.ticketmaster.com/event/05005AB0C9F420B7

Another noteworthy event this week celebrates and honors the talent of a skilled local musician. The Embassy presents Eliza Toth's CD Release Show on Saturday, June 26 at 7:30 p.m.

Musician Eliza Toth. Courtesy photo.

Eliza Toth has been stealing hearts in Fort Wayne since the beginning of the millennium, performing with various bands with her soulful rock prowess and drawing comparisons to the likes of Grace Slick, Ann Wilson (of Heart) and Alanis Morissette.

Eliza has fulfilled her bucket list of performing on Fort Wayne's most iconic stages (including the historic Embassy Theatre, The Clyde Theater, the Three Rivers Festival stage, and The Philmore On Broadway) and is ready to trail blaze as a solo artist in 2021 with the release of her full-length debut album, Oak. Her title track "Oak" was written to inspire others to believe in their own strength and ability to overcome. Her lyrics, "I am made with the groove and the grain of oak," describe her sound as she embodies the grooves of rock n' roll and the grain of country roads. Eliza promises to be a bold and strong example to women who dare to break molds and pave new ways.

Musician Eliza Toth. Courtesy photo.

She participated in the Embassy's Down the Line 14 in 2020, where her band paid homage to Dolly Parton. That concert featured a full female-led lineup. Eliza has performed at other Embassy events as well including Spring Forward Fest and Summer Nights.

Adam Baker & the Heartache are opening for Eliza. What started out as a 3-piece, electric, rock and roll band slowly morphed into an Americana and bluegrass infused indie-folk band. They focus their energy on songwriting and thick vocal harmonies. Adam Baker's first solo album was released in May 2021. There will be a 15-minute intermission between bands.

The Embassy bar will feature Leinenkugel Summer Shandy for $5.

Tickets for the Eliza Toth Band CD Release Show are $15 ($20 day of show), plus applicable fees. Purchase tickets at the STAR Bank box office (260.424.5665) or through ticketmaster.com.

Eliza Toth Band ticketing link: https://www.ticketmaster.com/eliza-toth-band-fort-wayne-indiana-06-26-2021/event/05005A99C48E1C8E

Embassy programming is made possible by the Embassy Presents Fund. Thank you to Chuck & Lisa Surack and Sweetwater, The James Foundation and Fort Wayne Metals for key gifts to this fund.

Activities at the Embassy are made possible in part by Arts United of Greater Fort Wayne and the Indiana Arts Commission, which receives support from the State of Indiana and the National Endowment for the Arts.

About the Embassy Theatre
Built in 1928, the Embassy Theatre is Indiana's largest self-sustaining historic theater. Originally known as the Emboyd, with the adjoining seven-story Indiana Hotel, the majestic movie palace and vaudeville theater introduced Indiana to the biggest stars of stage and screen. Today, the Embassy is listed on the National Register of Historic Places. Combining the beauty of a bygone era with the energy and diversity of today's performers, the Embassy is the showplace of Northern Indiana. Many choose to host events and weddings at the Embassy, as it offers flexibility and a unique event experience in an iconic piece of Fort Wayne history. Visit fwembassytheatre.org for more information.
Return to the AroundFortWayne home page.
Related Images: