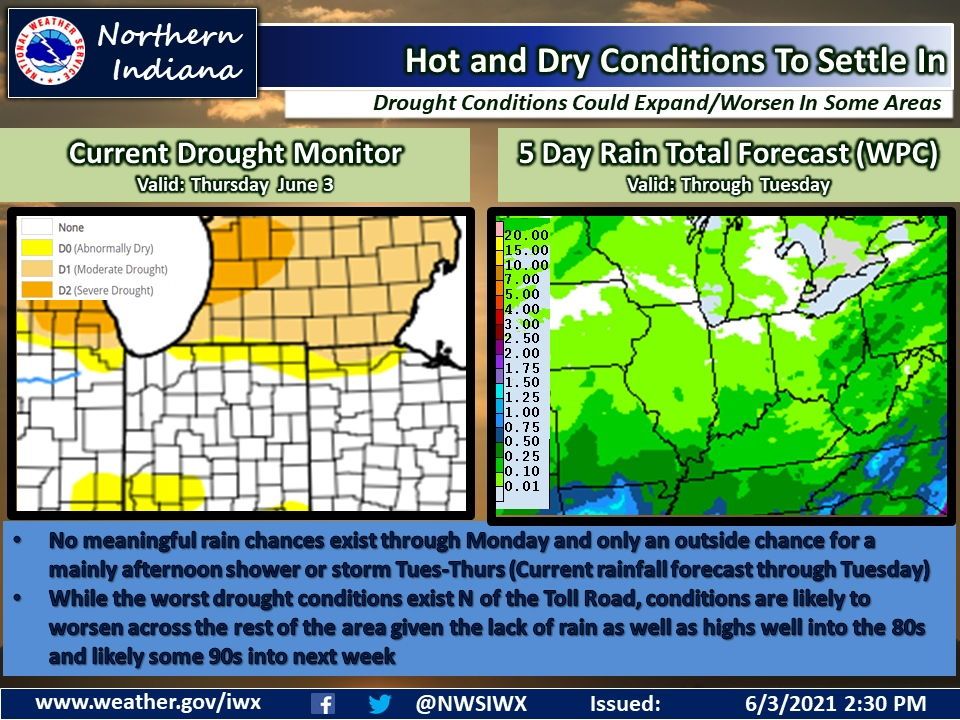 This post contains outdated information.
Tonight's Fort Wayne, Indiana weather story from the National Weather Service:
Hot and dry conditions to settle in
Drought conditions could expand/worsen in some areas

Highlights:

No meaningful rain chances exist through Monday and only an outside chance for a mainly afternoon shower or storm Tuesday through Thursday. This is the current rainfall forecast through Tuesday.
While the worst drought conditions exist north of the Toll Road. Conditions are likely to worsen across the rest of the area given the lack of rain as well as highs well into the 80s and likely some 90s into next week.

Fort Wayne, Indiana (June 3, 2021) – Rain chances will be few and far between over the next 5 to potentially 7 days or more with increasing heat expected. Highs will reach well into the 80s with the possibility of 1 or more days reaching or exceeding 90. Drought conditions will not improve, and may worsen in some areas, even those currently showing "None" on the graphic on the left.
The latest National Weather Service weather story | Official National Weather Service Northern Indiana website