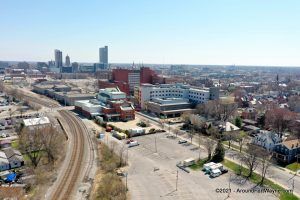 Lutheran Downtown Hospital Built on Sustainability
Sustainable design and construction key to green efforts

Fort Wayne, Indiana (April 21, 2021) – Beginning with the initial planning, construction of Lutheran Downtown Hospital was aggressively engineered for sustainability goals, ensuring the new building would be significantly more efficient in the use of natural resources such as energy, water and raw materials. The effort is on track to obtain a Green Globe® Building Certification.

"By conserving natural resources and investing in our employees and our communities, we foster wellness in and out of the hospital," said Twilla Lee, CEO of Lutheran Downtown Hospital. "We have worked diligently to identify and implement processes that improve efficiency, reduce consumption and waste, minimize environmental impact and improve community well-being."

Sustainability goals at Lutheran Downtown Hospital are being accomplished through multiple initiatives, including

Use of US EPA WaterSense® program compliant plumbing fixtures.
High efficiency heating and cooling infrastructure that minimize water, natural gas and electricity use. A building automation system (BAS) will constantly monitor use and notify staff if adjustments are needed to maintain efficiency.
Boilers used to heat the building will significantly reduce CO2 and nitrous oxide emissions compared to older systems.
Chillers for cooling the building will utilize modern refrigerants.
Use of high-efficiency LED lighting fixtures and controls throughout the facility will reduce electricity demand.
A minimum of 50 percent of construction waste, including building demolition waste, will be diverted from landfills through reuse and recycling.
Recycling support space is included in the new building program.
The air handling system will meet or exceed standards that measure how effectively air is distributed to maintain acceptable air quality.
Carpet, carpet pad and under-carpet adhesives will comply with the Carpet and Rug Institute's (CRI) Green Label Plus® program.
Paints, floor coverings and other interior products will meet or exceed recommended limits of volatile organic compounds (VOCs) to insure a safe interior environment for patients and staff.
Where possible, non-patient care interior furnishings meet sustainability requirements from the Forestry Stewardship Council (FSC).

While Lutheran Downtown Hospital is the newest structure with sustainability as a top goal, existing facilities have undergone a number of upgrades beyond extensive recycling. LED lighting has been installed in all renovated areas and corridors, including exterior lighting. Each building participates in an energy management reduction program with the goal of reducing energy usage by 5 percent or more per year.

Stay updated on Lutheran Downtown Hospital's construction progress: Lutheran Health Network Facebook page or Lutheran Downtown Hospital website.

About GBI
GBI is a nonprofit organization and American National Standards Institute (ANSI) Accredited Standards Developer dedicated to improving building performance and reducing climate impacts. Founded in 2004, the organization is the global provider of the Green Globes® and federal Guiding Principles Compliance building certification and assessment programs. To learn more about opportunities to become involved with GBI, contact info@thegbi.org or visit the GBI website at https://thegbi.org/.

About Lutheran Health Network
The foundation of Lutheran Health Network is built on an experienced team of more than 6,600 employees working together with the more than 800 physicians on the medical staffs. The network's more than 100 access points in northeastern Indiana include acute care hospitals, specialty hospitals, physician offices, urgent care clinics, and outpatient centers. Dupont, Lutheran, Rehabilitation, St. Joseph and The Orthopedic hospitals are owned in part by physicians.
Return to the AroundFortWayne home page.
Related Images: