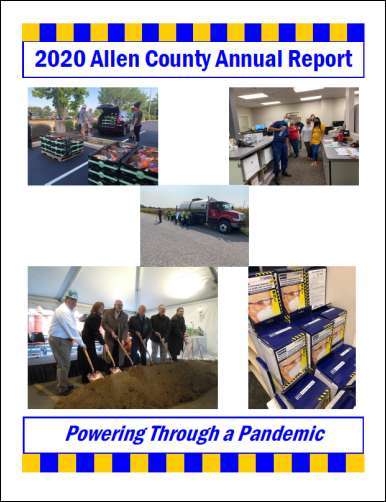 Allen County Board of Commissioners release 2020 Allen County Annual Report.
Allen County 2020 Annual Report Released
Year in review to be available in print and online

Fort Wayne, Indiana (March 8, 2021) — The 2020 Annual Report for Allen County was released today by the Board of Commissioners' Public Information Office.

The report highlights some of the progress made by county government in 2020 despite the challenges brought on by the COVID-19 global pandemic. "We are proud of the way our county government has operated during this extraordinary year," the Board of Commissioners said in its message to county residents. "We are exceptionally grateful to you, our citizens, for how you have adapted to many changes and came together in unity to respond to the challenges we still face."

Highlights of the 20-page comprehensive report include:

A breakdown of general fund revenues and the distribution of the county general fund budget in 2020;
The value of commercial and residential building permits in the county topping $1 billion dollars for the fourth consecutive year;
A review of efforts to enhance economic development in Allen County;
A recap of some of the major projects undertaken by the county Highway Department, including the conversion of 28.5 miles of gravel roads to chip-and-seal hard surfaces;
Reports from various County elected officials and departments under the direction of the Board of Commissioners;
Creation of the Broadband Access Team to examine the current status of high-speed internet access in Allen County and broadband network costs and sources of funding;
The work of the county Election Board to prepare for and conduct the November general election smoothly and with minimal disruption;
The objectives and goals of the Board of Commissioners in 2021; and
A list of current County elected officials and department heads.

You can download The 2020 Annual Report is currently available online at allencounty.us/annual-reports. It will also be distributed to public facilities throughout the community, including county government offices and branches of the Allen County Public Library.
Related Images: