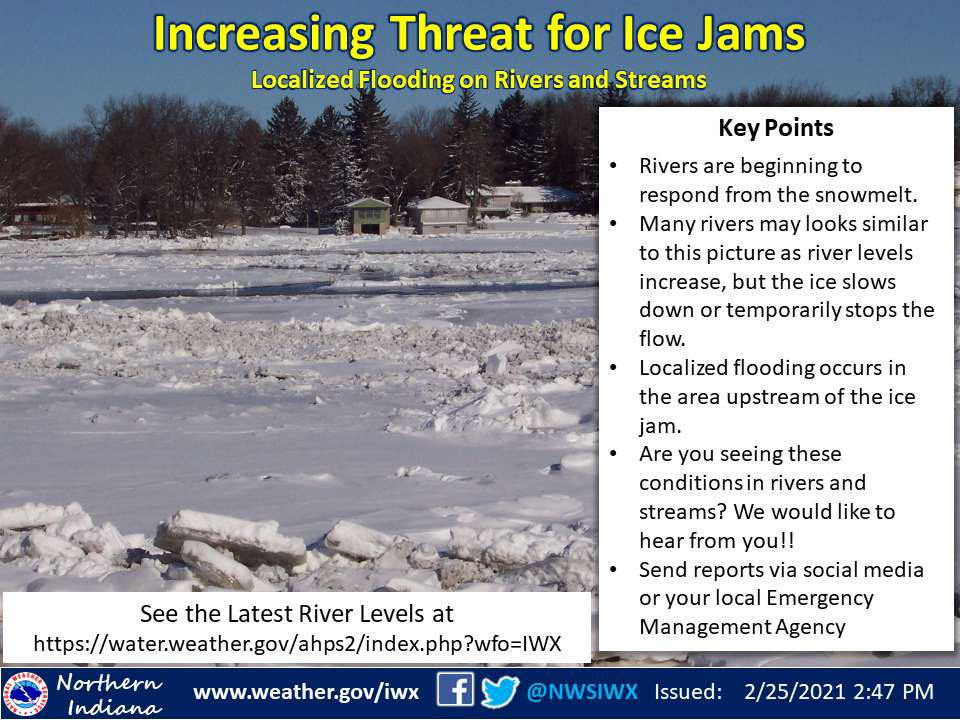 Infographic from the National Weather Service Northern Indiana warning of the increased threat for ice jams:
Icreasing threat for ice jams
Localized flooding on rivers and streams

Key Points

Rivers are beginning to respond from the snowmelt.
Many rivers may look similar to this picture as river levels increase, but the ice slows down or temporarily stops the flow.
Localized flooding occurs in the area upstream of the ice jam.
Are you seeing these conditions in rivers and streams? We would like to hear from you!
Send reports via social media or your local Emergency Management Agency

Click here to view the latest river levels.

We are monitoring river levels at several locations as runoff from the snow melt is beginning to cause some impacts. While river levels are starting low, ice on the rivers is not melting as fast and may begin to back up (jam) in areas where tight curves or other barriers exist. This can cause localized increases in water levels (often rather quickly) that can cause flooding at and upstream (behind) the ice jam.

If you see this happening, please let us know through social media and also notify your local Emergency Management agency. The latest river levels can be found at https://water.weather.gov/ahps2/index.php?wfo=IWX.
The latest National Weather Service weather story | Official National Weather Service Northern Indiana website