The National Weather Service has issued a Winter Storm Warning in effect from February 14, 2021, 10:00 PM until February 16, 2021, 07:00 AM:
This post contains outdated information.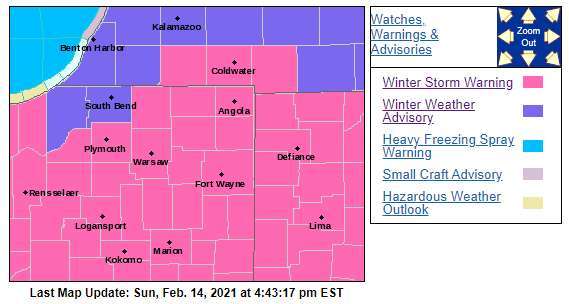 Regional view of the warnings – Click here for more information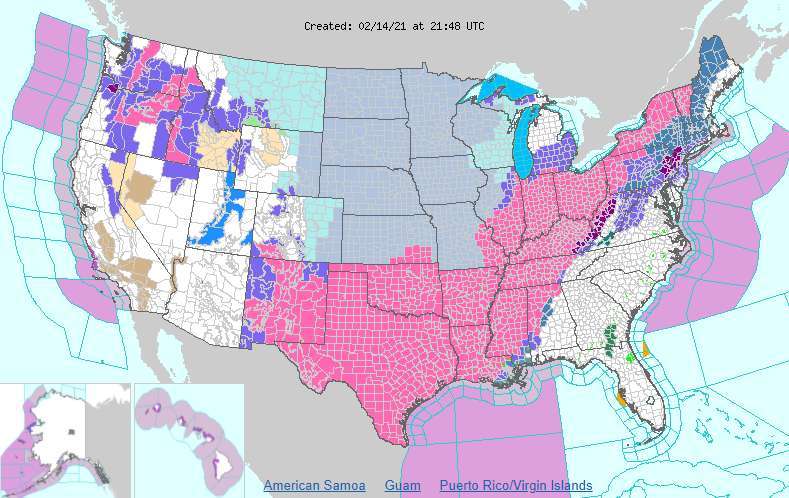 National view of NWS alerts – Click here for more information

URGENT – WINTER WEATHER MESSAGE
National Weather Service Northern Indiana
341 PM EST Sun Feb 14 2021

INZ018-025>027-032>034-OHZ004-005-015-016-024-025-150445-
/O.UPG.KIWX.WW.Y.0008.210215T0600Z-210216T1200Z/
/O.NEW.KIWX.WS.W.0002.210215T0300Z-210216T1200Z/
Allen IN-Huntington-Wells-Adams-Grant-Blackford-Jay-Defiance-Henry-Paulding-Putnam-Van Wert-Allen OH-
Including the cities of Fort Wayne, New Haven, Huntington, Roanoke, Bluffton, Ossian, Decatur, Berne, Marion, Gas City, Upland, Hartford City, Montpelier, Portland, Dunkirk, Defiance, Sherwood, Hicksville, Napoleon, Deshler, Liberty Center, Paulding, Antwerp, Payne, Ottawa, Leipsic, Columbus Grove, Continental, Pandora, Van Wert, Ohio City, Lima, and Spencerville
341 PM EST Sun Feb 14 2021

…WINTER STORM WARNING IN EFFECT FROM 10 PM THIS EVENING TO 7 AM EST TUESDAY…

WHAT…Heavy snow expected. Total snow accumulations of 8 to 12 inches.
WHERE…Portions of northern Indiana and northwest Ohio.
WHEN…From 10 PM this evening to 7 AM EST Tuesday.
IMPACTS…Travel could be very difficult late this evening into Tuesday morning with the greatest impacts likely seen Monday night and Tuesday morning.
ADDITIONAL DETAILS…Light snow late this evening into the overnight hours will bring 1 to 2 inches of accumulation by Monday morning. There may be a lull in the accumulating snowfall before an area of moderate to locally heavy snow moves in Monday evening and persists into the overnight hours before quickly ending by Tuesday morning. The expected snowfall late Monday afternoon into Monday night, combined with the snowfall tonight will bring total storm accumulations to 8 to locally as much as 12 inches by Tuesday morning. Some blowing and drifting snow will occur in rural areas.

PRECAUTIONARY/PREPAREDNESS ACTIONS…

If you must travel, keep an extra flashlight, food, and water in your vehicle in case of an emergency.
Related information: