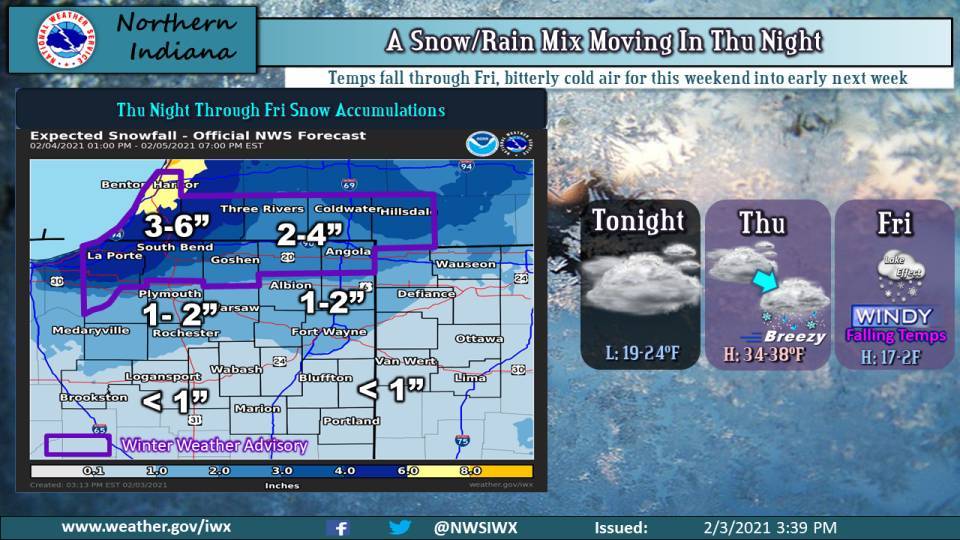 Tonight's Fort Wayne, Indiana weather story from the National Weather Service forecasting rain and snow tomorrow:
This post contains outdated information.
Rain/snow moves in late tomorrow then bitter cold

Fort Wayne, Indiana (February 3, 2021) – One more quiet 24 hour period of weather before winter comes back in.

A snow/rain mix is expected Thursday night into Friday morning before lake effect snow takes over Friday. Thursday's temperatures will be the last we will see above freezing into at least early next week.

In addition to the snow Thursday into Friday, it will become windy with blowing and drifting snow concerns across the winter weather advisory areas. In addition, bitterly cold air will move into the region this weekend. This cold air combined with wind gusts in the 10 to 20 mph range will result in subzero wind chills for much of the weekend into early next week.

Remember to bundle up if you're outside!
Click here to view the latest National Weather Service weather story.
Webmaster's note: Visit the official National Weather Service Northern Indiana website for the latest weather updates.