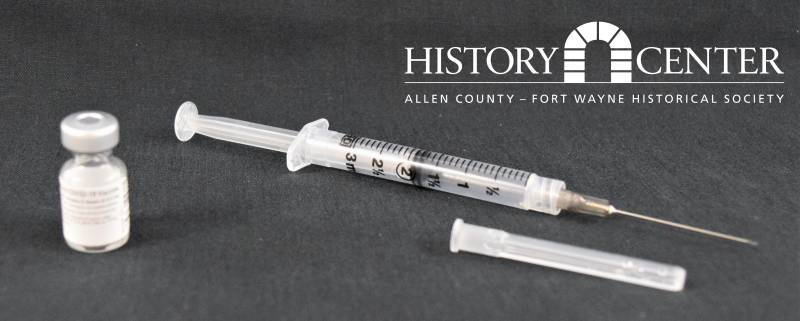 History Center news release:
History Center Receives Objects from First COVID-19 Vaccinations in Indiana

Fort Wayne Indiana (December 29, 2020) – The Fort Wayne History Center has received several significant objects used during the first COVID-19 vaccinations to occur in Indiana. These items include the vial that contained the first Pfizer-BioNTech COVID-19 vaccine to be administered and the syringe used to prepare the first six individual vaccinations in the state on December 14, 2020.

"Public historians do not exclusively operate in the distant recesses of yesteryear, but rather with foresight, cooperation and an appreciation for the past, momentous history can be captured in real-time. This was exampled last week with the donation from Parkview Health of valuable materials that will be used to tell the story of combating this global pandemic for future generations," stated Todd Maxwell Pelfrey, History Center Executive Director, who was invited to witness this historic event and collect these historical artifacts.

The first vaccine recipients were co-workers from Parkview Regional Medical Center: Reed Steffen, patient care technician; Marsha Franklin, respiratory therapist; Terrence Gant, environmental services technician; Jessica Taylor, registered nurse; Michael Todt, pharmacist; and Hariom Joshi, MD. The vaccinator for all six was Maryam Noureldin, ambulatory pharmacist. These were the first known COVID-19 vaccinations to be administered in Indiana and are among the first in the United States.

Pelfrey summarized, "in the historical sense, the six vaccinations that occurred at the Parkview Health Mirro Center between 12:09PM and 12:22PM mark what will likely be considered the turning point in recovering from what has thus far been the greatest global health emergency of the 21st century."

The vial, syringe and related materials join other COVID-19 objects contained in the History Center's 32,000-piece permanent artifact collection and will be used in future public exhibitions, programs and publications.
Related Images: