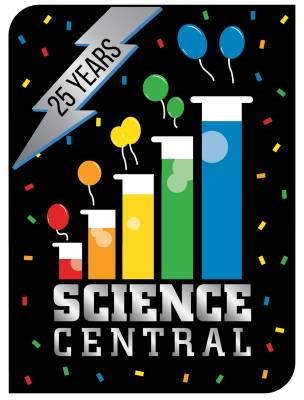 Science Central news release:
SC announces changes to Countdown to Noon

(December 22, 2020) – Science Central has modified its Countdown to Noon event on New Year's Eve, Thursday, Dec. 31.

In the interests of safety and in keeping the event's popular noon countdown accessible to all spectators, it will be held virtually. Science Central members and the general public are invited to take in the excitement of the countdown via Science Central's Facebook and Instagram pages, where it will be livestreamed. As always, the countdown will culminate with a balloon drop.

While the noon countdown will be virtual due to the COVID-19 pandemic, smaller countdowns, at 11 a.m., 1 p.m., and 2 p.m., will be open to in-person attendance, with crowd limitations of 25 people strictly enforced. These countdowns will coincide with the arrival of midnight in different parts of the world. Science Central and event sponsor Lake City Bank have designated the 1 p.m. event as sensory-friendly with a quiet countdown.

In addition to the countdowns, Science Central is offering activity kits as part of the event. A special Celebration Kit can be purchased for $10 and completed at home. This kit contains materials to do a variety of unique activities, from creating a lava lamp to making a rubber band harmonica. All proceeds will support Science Central and its mission to provide fun and inspiring science education. Celebration Kits can be purchased online.

A different activity kit will be included for free with the cost of Science Central admission for children. These kits, which are limited to 100, will contain materials from both Science Central and the Fort Wayne Philharmonic.

The cost to visit Science Central on Dec. 31 is our regular admission fee, $10. Admission is free for ages 2 and under and Science Central members. Science Central will be open from 10 a.m. to 3 p.m.

While Allen County currently has a "Red" score on Indiana's weekly COVID-19 Dashboard, Science Central is temporarily limiting the number of visitors in the building each hour through the use of timed tickets. As such, Science Central strongly encourages the purchase of timed tickets online. Not only will you reserve your admission time, but you will save $1 per ticket. As always, members get in free, but will need to reserve their timed tickets.

About Science Central
Science Central, a not-for-profit 501(c)3 organization, has provided a hands-on fun learning environment for more than 25 years. Through our 200+ exhibits, school tours, distance learning programs and weekend public events, we bring the excitement of science and technology to over 140,000 children and adults annually. Science Central is located at 1950 N. Clinton Street, Fort Wayne, IN 46805. For more information, contact Science Central at 260-424-2400 or visit www.sciencecentral.org.
Related Images: