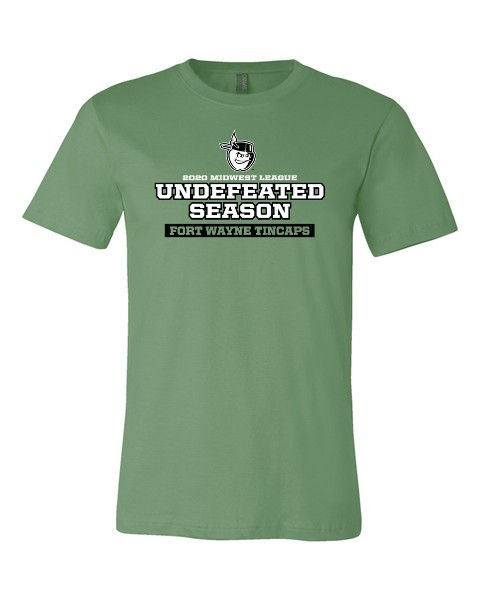 TinCaps news release:
TinCaps Offer Fans T-Shirts to Commemorate 2020
Minor League Baseball Season Lost, But TinCaps' Humor Isn't

(August 3, 2020) — The Fort Wayne TinCaps have t-shirts on sale to commemorate 2020. While the team may have lost its season, it hasn't lost its sense of humor. Fans can select from several options of shirts, including celebrating an "undefeated" season, "swiping left" on the year like it was in a dating app, and leaving a "customer review" for 2020.

TinCaps 2020 t-shirts are available to purchase via tincaps.com as a way to support the organization during a year with no games.

"We're looking at about 19 months without hosting a game—our primary source of revenue — which is incredibly challenging for us as an organization," said TinCaps President Mike Nutter. "But while we can't entertain fans like we normally do at Parkview Field, we hope we can still bring a smile to fans with some of these creative t-shirt designs. We truly appreciate anyone who supports the TinCaps during this period of adversity."

The six different limited-edition 2020 TinCaps t-shirts are $20 each and available in red, green, and dark grey. The soft cotton shirts are unisex in sizing. Sizes range from youth small through adult 4x-large. Just like the team's "In This Together" shirts that went on sale in the spring to benefit Parkview Health workers in the fight against COVID-19, these shirts are being produced and distributed by the Fort Wayne-based company 18 Threads.

TinCaps 2020 T-Shirts

0.5 Out of 5 Stars
2020 Undefeated Season
2020 Midwest League Champs
Swipe Left
Someone Had to Win
Wear a Mask

In addition to these unique 2020 t-shirts, The Orchard Team Store also has a wide array of merchandise available on tincaps.com. TinCaps gear features brands like Nike, New Era, Columbia, and '47.

Another way fans can support the TinCaps at this time is by purchasing a gift card that can be used not only on merchandise, but also on future tickets and concessions. Other supportive options include hosting an event at Parkview Field.
Related Images: