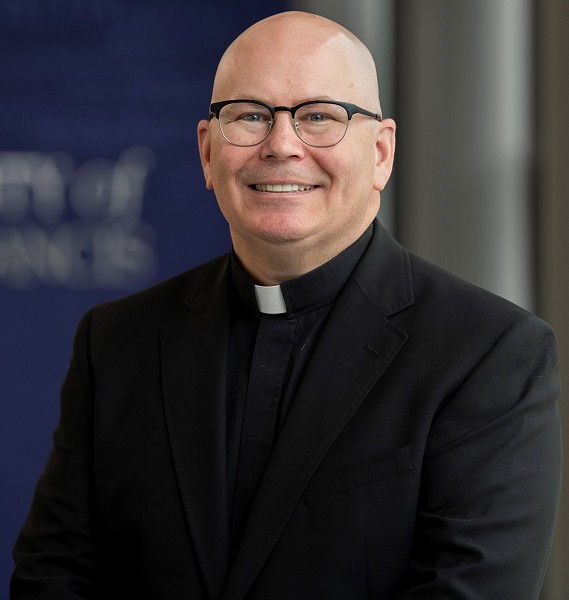 University of Saint Francis news release:
Rev. Dr. Eric Albert Zimmer begins tenure as University of Saint Francis president

(July 1, 2020) – Rev. Dr. Eric Albert Zimmer today served his first day as University of Saint Francis president.

Fr. Zimmer was appointed president by the founding Congregation, the Sisters of St. Francis of Perpetual Adoration, working closely with the USF Board of Trustees. He succeeds Sister M. Elise Kriss, OSF, who retired on June 30, 2020 after serving 27 years as president.

Fr. Zimmer celebrated Mass at the St. Francis Chapel as part of his first day.

"Saint Francis is wonderfully placed to continue to develop and grow and perhaps do so on a much greater level than anyone would have thought a couple of decades ago," Fr. Zimmer said. "When Sister Elise came on, it was a much smaller school. She's developed it tremendously, building up the campus and the new buildings and the new chapel and all these wonderful things. We want to continue to build on that."

Fr. Zimmer came to USF after serving as associate teaching professor in the Mendoza College of Business at the University of Notre Dame as well as pastor of Saint Patrick's Church in Walkerton, Ind. He directed the Mendoza College of Business interchange with the United Nations Principles for Responsible Management Education. He taught negotiation and business communication and his research emphasis included the adoption of innovation in non-profit organizations and the fundraising practices of non-profits. He has previously worked in higher education at Creighton University and Georgetown University.

Fr. Zimmer brings an impressive background of experience and leadership to USF. His body of work includes:

Attaché for the Holy See Permanent Mission to the United Nations
Founder and Director of Leadership Development at the Creighton University School of Medicine
Official of the Secretariat for the Congregation for Catholic Education, Universities Section, the Holy See
Trustee, National Office of Post-Abortion Reconciliation and Healing.
Trustee, Rudolph P. and Florence Nadbath Charitable Trust
Trustee, Loyola University New Orleans
Captain, United States Air Force Reserve
CEO, Jesuits.net
State Chaplain, Knights of Columbus, Washington, D.C.
Chair, Media Advisory Board, Georgetown University
Chair, Pedro Arrupe Scholarship for Peace, Georgetown University
Chair, Speaker Series, CCT Program, Georgetown University
Regent, Saint Ignatius High School Board of Regents, Cleveland, Ohio

Fr. Zimmer has a track record of success in fundraising, finance, and investments. He increased Saint Patrick's Parish revenue by 50% in the first 12 months and developed six- and seven-figure capacity prospects for Creighton University. He also assisted in the design of the request for a high eight-figure gift at Notre Dame. He developed the fundraising arm of the National Office for Post-Abortion Reconciliation and Healing.

He is also an innovator and entrepreneur who created Jesuits.net, an international online networking and communication tool for Jesuits. He directed a multilevel national research team for Annenberg Public Policy Institute's multiyear study on inhibiting effects of anti-drug video messages. As Official of the Secretariat, Fr. Zimmer directed Vatican oversight of 1,013 Anglophone Catholic universities, ecclesiastical faculties of theology, philosophy and canon law, and affiliated seminaries – 54% of Catholic worldwide institutions, including 216 in the United States.

Fr. Zimmer holds a Ph.D. from the University of Pennsylvania, an MBA from the University of Chicago, a M.Div. and a Licentiate in Sacred Theology (STL) from the Jesuit School of Theology at Berkeley, an M.A. from the University of Minnesota and a B.A. from Loyola University of New Orleans.

Fr. Zimmer has also spent time focusing on international pastoral ministry and service through long-term service in international communities, including Nepal, India, Chile, France and Italy, and in pastoral care with Omaha's Hispanic community and New York City's inner city and Ground Zero communities. He speaks five languages. He is also an avid cyclist and professionally trained bicycle mechanic who biked across the United States in 2003 for Project Rachel.

About the University of Saint Francis
Founded in 1890 in the Catholic Franciscan tradition, the University of Saint Francis offers more than 70 undergraduate, graduate and doctoral programs through the School of Health Sciences, School of Liberal Arts and Sciences, Keith Busse School of Business and Entrepreneurial Leadership and School of Creative Arts. In addition to its traditional programs, USF designs focused curricula for working adults in Fort Wayne, Crown Point and online. USF Downtown houses the university's business and music technology programs while offering enhanced internship and networking opportunities for students. The University of Saint Francis campus experience includes 16 athletic programs boasting two individual and four team NAIA national championships and is recognized as an NAIA Five-Star Champion of Character institution. Approximately 2,200 students from a broad geographic region attend USF.
Related Images: