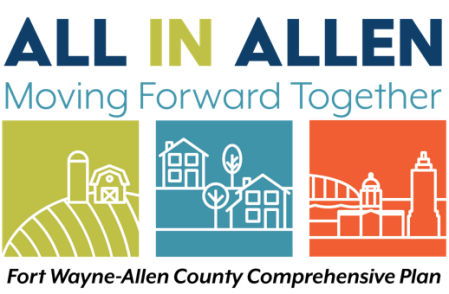 All In Allen Comprehensive Plan Kickoff Event Set for Wednesday
Change to Program Features New Keynote Speaker

(February 17. 2019) – The All In Allen Joint Comprehensive Plan Kickoff, scheduled for Wednesday, February 19, will now feature planning expert Lisa Dunaway as well as a panel discussion with local community development professionals.

The event is from 5:30 – 7:30 p.m. on Wednesday, February 19, 2020, in the Harrison rooms of the Grand Wayne Center in downtown Fort Wayne and is the first of several engagement events to support the joint comprehensive planning process. The previously announced keynote speaker, John Houseal, is not able to attend due to a family emergency.

Dunaway, President of Sensible Ecology, LLC, will discuss the importance of comprehensive planning to the success of a community. She will talk about the issues and emerging trends facing communities like Fort Wayne and Allen County. Dunaway was an Instructor of Urban Planning at Ball State University for almost a decade and her specialties include neighborhood planning, urban ecology and physical planning.

Following Dunaway's presentation, a panel of local experts will discuss the ways in which comprehensive planning can prepare communities for future success. The panel includes: Mark Becker of BECKERConsulting; Rachel Blakeman, Community Research Institute Director at Purdue University Fort Wayne; Réna Bradley, Community Development Director at Bridge of Grace Compassionate Ministries Center; and Kristi Sturtz, President of Sturtz Public Management Group.

The All in Allen Kick-Off event is free to the public and refreshments will be served. People will also have an opportunity to provide their input on the most important issues facing the Allen County community.

The All In Allen Comprehensive Plan is a blueprint to guide land use, housing, transportation, parks and more for Fort Wayne and Allen County—including Grabill, Huntertown, Monroeville, Woodburn and unincorporated areas. The plan will be used by community leaders to make decisions and policies to shape the region for years to come.

Residents are invited to participate in the February kickoff as well as upcoming events. Future events, along with updates about the process, will be listed on the ALLINALLEN.ORG website.
Related Images: