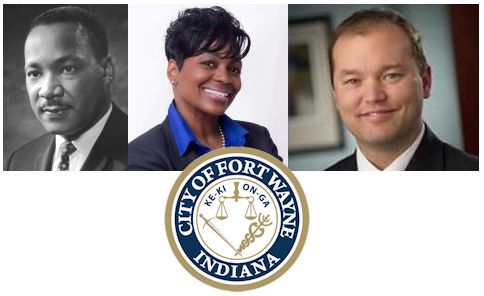 Fort Wayne City Council to discuss public display commemorating Rev. Dr. Martin Luther King, Jr. speech in city

(February 3, 2020) – Led by Councilwoman Michelle Chambers and Councilman Russell Jehl, the Fort Wayne City Council will discuss a resolution to formally ask the Fort Wayne Public Art Commission to investigate a public display honoring Rev. Dr. Martin Luther King, Jr.'s speech given in Fort Wayne on June 5, 1963 at the Scottish Rite. Currently there is no memorial in the community for this historic event.

The resolution, which was introduced on January 28th, will call on the Public Art Commission and Council's appointee to the body to investigate and advocate for an appropriate public memorial, to ensure that Dr. King's words are not lost to time. Said Councilman Jehl, "I recently searched online for a quote from Dr. King when he spoke in Fort Wayne and was surprised that there are almost no references to it. If Fort Wayne wants the world to remember the event and the inspirational words spoken, then we must find a suitable way to commemorate them before they are lost to history."

Councilwoman Chambers believes this is a good first step in remembrance, stating, "As we commemorated Dr. Martin Luther King's Jr. 91st Birthday on January 20th, 2020, it is important that we never forget his historic visit to Fort Wayne on June 5th, 1963. We now have the opportunity to ensure his remarkable speech from this day be captured and displayed through an Art Exhibition for all to see and experience. A quote from his speech, "We have learned to stand up against the evil system – and still not hate in the process. We have discovered that love works miracles." I believe these words still ring true today and should forever be a part Fort Wayne's written history."

The Fort Wayne Public Art Commission seeks to enhance the visual environment and strengthen the positive reputation, brand and stature of Ft. Wayne and its neighborhoods by promoting and integrating public art throughout the city.

A copy of the resolution can be here. This resolution will be discussed at Council, beginning at 5:30 on Tuesday, February 4 at Citizen's Square. All citizens are welcome to attend the meeting.
Related Images: