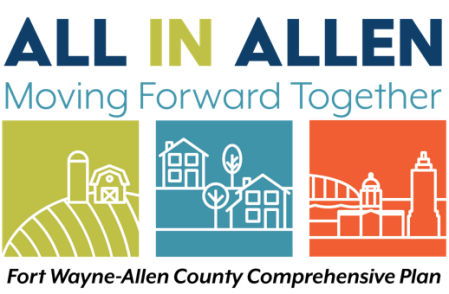 News release from the City of Fort Wayne:
Event to feature nationally recognized speaker

(January 31, 2020) – Allen County and the City of Fort Wayne invite the community to the All In Allen Joint Comprehensive Plan Kickoff. This kickoff event will be from 5:30 – 7:30 p.m. on Wednesday, February 19, 2020, in the Harrison rooms of the Grand Wayne Center in downtown Fort Wayne.

The first of several engagement events to support the joint comprehensive planning process will feature John Houseal, one of the top planning professionals and community facilitators in the country. Houseal will discuss the issues facing communities like Fort Wayne and Allen County as well as the emerging trends that require new planning strategies and ways of thinking to build the successful mid-sized communities of tomorrow. This event is free to the public and refreshments will be served.

"Updating our community's joint comprehensive plan is critical to the long-term success of our region," said Fort Wayne Mayor Tom Henry. "By developing a shared vision that represents what's best for all residents, we can continue our momentum and build a community in which we all take pride."

"Several years, ago this community made a decision to grow and prosper. The results of that decision are apparent today throughout Allen County and Fort Wayne, said Allen County Commissioner Rich Beck. "But with all of the new and dynamic changes that have taken place, the current comprehensive plan can no longer meet our needs. The full support of the community in developing this new plan will take us to the next level."

The All In Allen Comprehensive Plan is a blueprint to guide land use, housing, transportation, parks and more for Fort Wayne and Allen County—including Grabill, Huntertown, Monroeville, Woodburn and unincorporated areas. The plan will be used by community leaders to make decisions and policies to shape the region for years to come.

Residents are invited to participate in the February kickoff as well as upcoming events. Future events, along with updates about the process, will be listed on the ALLINALLEN.ORG website.
Related Images: