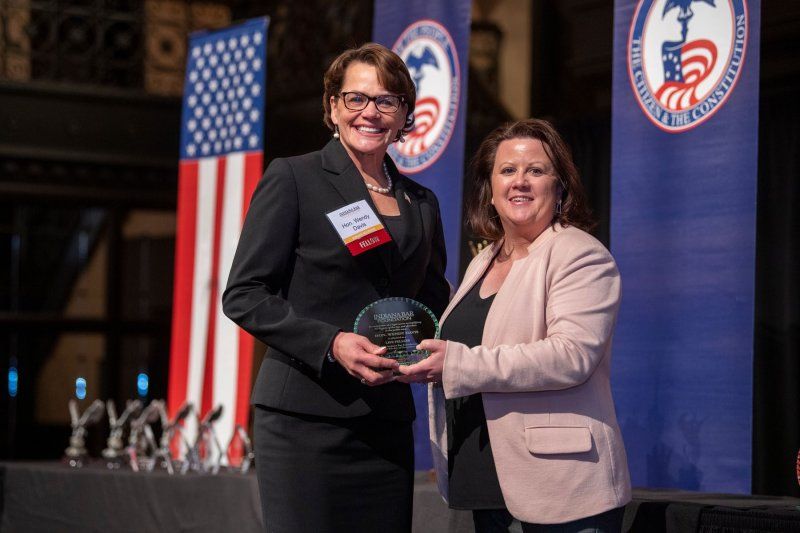 News release from the Indiana Bar Foundation:
Hoosiers Awarded for Service to Public, Civic Education and Legal Profession

INDIANAPOLIS (December 9, 2019) – The Indiana Bar Foundation honored nineteen individuals dedicated to the delivery of pro bono legal services, civic education, service to the legal profession and the public at its awards dinner December 8, 2019.

Legal, Judicial Professionals Selected for Fellows
The Fellows exemplify the highest standards of professionalism, legal acumen, service to the community and the legal profession. The seven Fellows selected exemplify service to the profession and the public – whether through local or state bar association leadership, mentorship of other lawyers or civic and community organizations.

They are:

Hon. Wendy Davis, Fort Wayne
Monica Fennell, Indianapolis
Andrew Northern, Bloomington
Alexander Orlowski, Indianapolis
Hon. Elizabeth Tavitas, Indianapolis
David Van Gilder, Fort Wayne
Hon. Greg Zoeller, Indianapolis

Civil Justice Honorees
Michael Gastineau, Indianapolis, Jessica Hockemeyer, Fort Wayne, Michael Huerta, Bloomington, received the Pro Bono Publico Award for responding to the most questions on Indiana Free Legal Answers, a website where financially qualifying Hoosiers can ask an Indiana attorney a question about a non-criminal legal issue. In total they answered 250 questions, making up 37% of the total number of questions answered in 2018.

Madonna McGrath, Carmel, and Rebecca Wyatt, Gary, also received the Pro Bono Publico Award for their dedication to the development and delivery of legal services to indigent residents.

Additional honorees include:

Randall T. Shepard Award for Excellence in Pro Bono – J. Mark Robinson – New Albany
John Patrick Award for Civic Education – Rep. Todd Huston – Fishers
William Baker Award for Civic Education – Don Lundberg – Indianapolis
Law-Related Education Award – Scott Barnhart – Indianapolis
Law-Related Education Award – Janice Houghton – Indianapolis
Law-Related Education Award – Ethan Mathias – Fishers
Law-Related Education Award – Maggie Weatherman – Clayton

The Indiana Bar Foundation's mission is to strengthen appreciation for the rule of law and civic education for all Hoosiers. The Foundation is a nonprofit that educates tomorrow's leaders, expands civil justice and supports the legal profession.
Related Images: