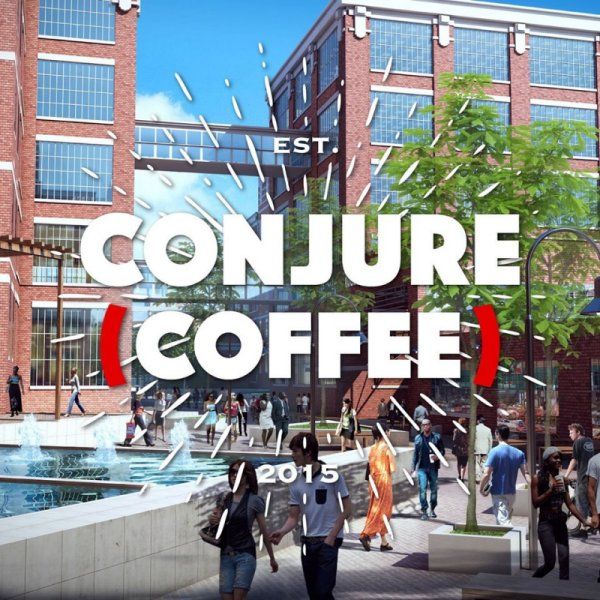 News release from Electric Works:
Conjure Coffee to locate café and roastery at Electric Works

(September 26, 2019) – A locally owned and growing coffee company announced plans for an extensive presence at Electric Works.

Fort Wayne-based Conjure Coffee has signed a letter of intent to locate a café on-site in the Electric Works Innovation Center. In addition, Conjure will open a café, coffee bar and roastery in the project's food hall and public market. The café will showcase unique features including a roasting theater with tiered seating overlooking the roasting process and a tasting room for community education and engagement.

Founded in 2015 by Fort Wayne native Corey Waldron, Conjure offers retail and wholesale artisan roasted coffees sourced globally. In 2016, Conjure opened a popular café on Columbia Avenue just north of downtown Fort Wayne.

"This is an exceptional and unique opportunity for us, and given the site's heritage of innovation and making things, we love the idea of the roastery inside Electric Works," Waldron said. "As a Fort Wayne native, I love the vision for Electric Works and what it represents. I've also been inspired by my experiences with food halls and innovation spaces in my travels to other cities — and I'm thrilled about Electric Works bringing those experiences to our region."

Indeed, Waldron said he always envisioned the company graduating to a space like Electric Works, which he says is reminiscent of places he's visited in such international destinations as Toronto, Seattle and San Francisco.

"Conjure Coffee is both a local entrepreneurial success story and a wonderful addition to Electric Works," said Kevan Biggs of the Electric Works development team. "By bringing a truly local and unique retail experience to Electric Works, their presence at both the Innovation Center and the food hall will positively impact the quality of place and overall experience those locations will provide. After all, coffee shops are quintessential when it comes to the kinds of places that spark ideas and partnerships among entrepreneurs, makers, students and gurus."
This is the second announcement Conjure has made recently regarding its future expansion plans; last week, it announced it had signed a lease to locate a café and coffee bar at the Foellinger Freimann Botanical Conservatory in mid-November.

Waldron is also a founder and co-owner of Modbar, a Fort Wayne-based company that brought the first under-counter commercial espresso machine to the United States. Modbar will be highlighted in all new Conjure locations, including at Electric Works.

For more information about Conjure Coffee, visit conjurecoffee.com. For more information about Modbar, visit modbar.com.

About Electric Works
Electric Works is a mixed-use district of innovation, energy and culture, developed as a public/private partnership between RTM Ventures and the City of Fort Wayne. A redevelopment and reuse of the former General Electric campus in downtown Fort Wayne, Electric Works includes 39 acres, 18 historic buildings and more than 1.2 million square feet of space for office,
educational, innovation, retail, residential, hotel and entertainment uses. For more information, visit the Electric Works website.
Related Images: