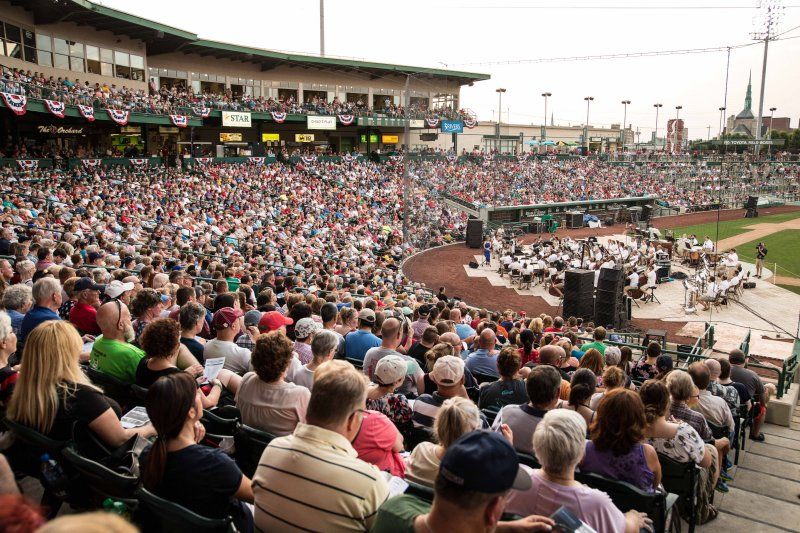 News release from the Fort Wayne Philharmonic:
Fort Wayne Philharmonic to Perform Sixth Annual "Patriotic Pops at Parkview Field" Concert Wednesday, July 3, 2019
Noted Fort Wayne Broadcaster Melissa Long to Host and Narrate

(June 3, 2019) – The Fort Wayne Philharmonic presents "Patriotic Pops at Parkview Field," its sixth annual free concert and family fun night in celebration of the American spirit, Tuesday, July 3, 2019, at Parkview Field.

The concert will be hosted and narrated by well-known Fort Wayne broadcaster and media personality Melissa Long. Long spent her entire 31-year TV broadcasting career in Fort Wayne.

The concert begins at 8:30 pm, with fireworks accompanying the finale at approximately 9:40 p.m. This is a free event to the public. No ticket is required for entry. Gates will be open to the public at 6:00 p.m. and attendees should plan to arrive early for best seating. Parkview Field's concessions will be open (no outside food or beverages are permitted), and there will be several family-friendly pre-concert activities, including free access to the Batting Cages and the Fun Zone Area. T.A.G. Art Company, Fort Wayne's premier event entertainment resource, will be on site, offering face painting. Johnny TinCap, the Fort Wayne TinCaps mascot, will be present, and Uncle Sam and Captain America will mingle with the crowd and pose for photos and selfies. As a special treat, free ice cream will be served in honor of the 75th Anniversary season.

THE PROGRAM
The concert, conducted by the Philharmonic's Associate Conductor Caleb Young, will feature American works such as Oh Susanna, Seventy-Six Trombones from Music Man, plus more contemporary favorites such as the theme from Liberty Fanfare, and many more. The final works on the concert, selections from Star Wars, Tchaikovsky's 1812 Overture, and Sousa's Stars and Stripes Forever, will be accompanied by fireworks.

"We are so privileged to be a part of the cultural fabric of Fort Wayne. During our annual Parkview Field concert, I am always reminded of the power of music, and how it brings people together. Music has the rare ability to unify and build bridges, strengthening our community," said Young. "Our program will celebrate what makes America truly a special place to call home. I look forward to seeing all of our extended musical family this July!"

One of the most meaningful moments of the concert will occur when the Philharmonic pays tribute to those who have served this country. During Armed Forces on Parade, veterans will be invited to stand when their service branch theme is played.

PRIORITY EARLY ACCESS
Special Priority Early Access, and the chance to win prizes featuring free tickets to Fort Wayne Philharmonic concerts in the 2019-20 season, are available to anyone for free by pre-registering at www.fwphil.org. Those who pre-register are asked to print their confirmation at home, or save it on their mobile device, and present it at the Parkview Field South Gates entrance beginning at 5:00 p.m. (one hour before the public).

Last year, the concert was attended by an estimated 8,000 spectators. The Philharmonic urges everyone to pre-register for Priority Early Access online at https://ticketing.fwphil.org/564/566 or arrive as soon as possible after 6:00 p.m. for best seating. Pre-registering for Priority Early Access does not guarantee a particular seat; there are no reserved seats in the lower level seats of the stadium.

RESERVED SEATING OPTIONS AVAILABLE
Patrons do have the option to purchase specially reserved Club Stadium Seats, $30 for adults $15 for children 12 and under, and Toyota Field Boxes that seat 4 people for $50. Patrons are encouraged to check availability or purchase by going to https://ticketing.fwphil.org/564/565.

SUPPORT
Admission to the Fort Wayne Philharmonic "Patriotic Pops at Parkview Field" is free to the public because of the generous support of the Miller Family Fund, PNC Bank, Sweetwater and Parkview Field/Fort Wayne TinCaps.

For additional information, visit https://fwphil.org/, or call The Philharmonic Box Office at 260.481.0777.

PROGRAM
SMITH — Star Spangled Banner
WILLIAMS — Liberty Fanfare
SOUSA — National Emblem March
ALFORD — Colonel Bogey March
COPLAND — Variations on a Shaker Melody
SOUSA — Washington Post March
BECKEL — I Am the American Flag with Melissa Long narrating
GOULD — American Salute
WILLSON — Seventy-Six Trombones from Music Man
TRAD. (Arr. Custer) — Oh Susanna / O Shenandoah
TRAD. — Salute to the Armed Forces
VARIOUS (Arr. Hayman) — Sing Out America
IVES — Variations on "America"
FIREWORKS
WILLIAMS — Selection from Star Wars
TCHAIKOVSKY — Finale from 1812 Overture
SOUSA — The Stars and Stripes, Forever

Fort Wayne Philharmonic
Now completing its 2018-19 75th Anniversary Season, the Fort Wayne Philharmonic's mission is to inspire and foster a lifelong love of symphonic music through performance and education. Music Director Andrew Constantine leads the Fort Wayne Philharmonic. All programming is made possible by the support of community individuals, businesses, corporations and foundations. The Philharmonic is a member of the League of American Orchestras and a funded member of Arts United of Greater Fort Wayne, the Indiana Arts Commission, and National Endowment for the Arts. For additional information, call 260.481.0777 or log on to the website at fwphil.org.
Related Images: