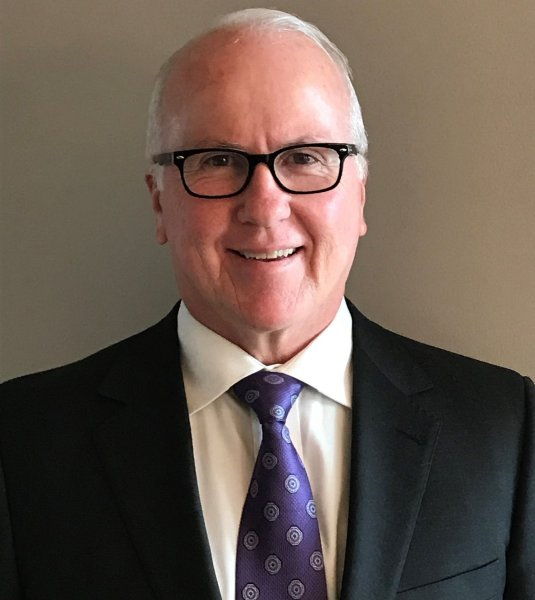 News release from White Lodging:
White Lodging Names Kevin Croy General Manager of the New Hampton Inn & Suites Fort Wayne Downtown
Hotel and restaurants now hiring for all positions

(May 13, 2019) – White Lodging has named Kevin Croy to lead the Hampton Inn & Suites Fort Wayne Downtown team as general manager. The new 136-room Hampton Inn & Suites is scheduled to open in mid-July, and is immediately adjacent to Parkview Field and the Grand Wayne Convention Center.

Croy brings decades of local hotel experience to White Lodging and was most recently the owner and operator of Fleet Feet Fort Wayne, which was voted one of the 50 Best Running Stores in America for three years. Prior to his full-time role at Fleet Feet Fort Wayne, he was a general manager at a variety of hotel properties in Fort Wayne and Indianapolis. He also previously worked for Marriott Corporation and Hyatt Hotels Corporation. Fleet Feet Fort Wayne is now operated by Croy's daughter, Maggie.

Southwest view of the Hampton Inn under construction in downtown Fort Wayne Indiana. Rendering courtesy of White Lodging.

"I'm honored and excited to be the opening general manager for such a one-of-a-kind property," said Croy. "I'm looking forward to making it the number one hotel and restaurant destination in Fort Wayne and Northeast Indiana."

Kevin is an adjunct professor in hospitality management at Purdue University Fort Wayne. He is a graduate of Berea College where he earned a bachelor's degree in business administration/hotel management.

The property will offer all of the amenities expected by Hilton's upper-midscale brand with several unique features, including Burger Bar restaurant and an indoor/outdoor rooftop bar – Conner's Rooftop – offering spectacular views of Parkview Field and downtown Fort Wayne. More than 25 percent of the hotel's 136 guestrooms will be oversized suites with all guestrooms either offering direct views of Parkview Field or the downtown skyline.

Now Hiring All Positions
White Lodging is currently hiring for more than 20 positions at the new hotel and restaurants. Interested applicants with the passion to serve can learn more and see job openings at http://HamptonFW.whitelodging.com. Interested candidates can apply online or in-person at the hiring center at 301 West Jefferson Boulevard (#105) between the hours of 9:00 a.m. and 5:00 p.m.

Specific hotel hiring events are scheduled for Wednesday, May 15 (4:00 p.m. – 8:00 p.m.) and Sunday, May 19 (11:00 a.m. – 4:00 p.m.) at the hiring center. Specific restaurant and bar hiring events are scheduled for Thursday, May 23 (3:00 p.m. – 9:00 p.m.) at the hiring center and Sunday, June 2 (10:00 a.m. – 1:00 p.m. | 5:00 p.m. – 9:00 p.m.) at Conner's Kitchen + Bar at 1150 S Harrison Street.

Conner's Rooftop
Conner's Rooftop will be Fort Wayne's only open-air rooftop in downtown, situated on the eighth floor of the Hampton Inn & Suites. The rooftop will extend the atmosphere of nearby Conner's Kitchen + Bar to skyline heights, complete with cozy indoor/outdoor seating, shareable small plates, fire pits, craft and frozen cocktails, and hangout worthy happy hours that can last late into the evening. Keep updated on Conner's Rooftop at www.connersfortwayne.com/rooftop.

Burger Bar Fort Wayne
Burger Bar pays homage to the legendary food trucks dotting the Midwest, serving local butcher burgers and handspun milkshakes. The restaurant is adjacent to the hotel and will boast seating for 70, including 18 outdoor seats, on West Jefferson Boulevard just beyond the outfield concourse of Parkview Field. Burger Bar's menu will feature unique and handcrafted Midwestern Angus beef burgers; made-to-order french fries and hand-breaded chicken sandwiches. Rounding out the menu will be shakes, sundaes and soft-serve ice cream sourced from a local creamery alongside house-made hot fudge and caramel sauces. Burger Bar will also serve beer and boozy milkshakes. Whether it's for pick-up or dine-in, Fort Wayne's burger cravings will be satisfied.

White Lodging first introduced the Burger Bar concept in Austin, Texas, in 2015.

White Lodging also operates the Courtyard Fort Wayne Downtown and Conner's Kitchen + Bar at the corner of West Jefferson Boulevard and Harrison Street.

About White Lodging
White Lodging, established in 1985, is one of the leading ownership, development, and management companies in America. An innovative trendsetter, the organization's portfolio includes convention, urban lifestyle, and suburban select hotels with more than $1 billion in managed revenue. White Lodging operates more than 90-premium hotels, 30 restaurants and 30 brands in 20 states. Success knows no boundaries at White Lodging, where associates and leadership have consistently earned superior guest satisfaction scores, top market share and industry-leading profit margins while recruiting the best, brightest, and most passionate professionals in every discipline for three decades. White Lodging is a proud winner of the Gallup Great Workplace Award. For more information about White Lodging, visit www.whitelodging.com.
Related Images: