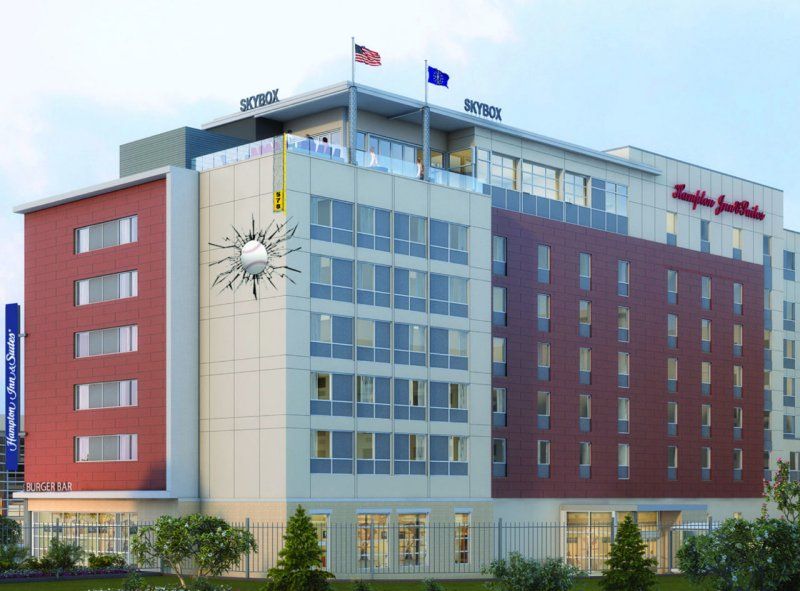 White Lodging celebrates construction milestone of New Hampton by Hilton Hotel

(January 28, 2019) – White Lodging announced today the "topping off" of its new hotel in Fort Wayne, signifying that the structural framework is now complete. The new 136-room Hampton Inn & Suites by Hilton Fort Wayne Downtown, immediately adjacent to Parkview Field and the Grand Wayne Convention Center, is on schedule to open in July 2019.
"The Hampton Inn & Suites by Hilton is going to be a tremendous addition to our downtown. We're impressed with the positive progress we're seeing with the construction of the new hotel," said Fort Wayne Mayor Tom Henry. "White Lodging is an outstanding partner and we appreciate their continued private investment in our community. Convention and tourism opportunities will be enhanced with the new hotel development."
The hotel will offer all of the amenities expected by Hilton's upper-midscale brand with several unique features, including a walk-up Burger Bar restaurant and an indoor/outdoor rooftop bar – Conner's Rooftop – offering spectacular views of Parkview Field and downtown Fort Wayne.
"The city has delivered on its commitment to re-energize downtown starting with the Harrison Square re-development over a decade ago," said Deno Yiankes, president and CEO, investments and development at White Lodging. "We are appreciative of the opportunity to play a role and excited to be bringing a unique venue to life; one that we believe visitors and the local community will equally enjoy."
Burger Bar Fort Wayne
Burger Bar pays homage to the legendary food trucks dotting the Midwest, serving local butcher burgers and handspun milkshakes. Boasting seating for 70 – including 18 outdoor seats – and a convenient walk-up window on West Jefferson Boulevard just beyond the outfield concourse of Parkview Field, Burger Bar's menu will feature unique and handcrafted Midwestern Angus beef burgers; made-to-order french fries and hand-breaded chicken sandwiches. Rounding out the menu will be shakes, sundaes and soft-serve ice cream sourced from a local creamery alongside house-made hot fudge and caramel sauces. Whether it's for pick-up or dine-in, Burger Bar will satisfy Fort Wayne's burger cravings.
White Lodging first introduced the Burger Bar concept in Austin, Texas, in 2015.
Conner's Rooftop
Conner's Rooftop will be a one-of-a-kind rooftop bar overlooking Parkview Field. Patrons can lounge on flexible seating arrangements with communal tables and soft seating. The space will be partial open air with stadium seating overlooking the baseball field. Fire pits throughout the space will offer gathering points, punctuated with whimsical lighting. Locals and visitors can expect sharable small plates and snacks, and a nod to modern bar culture with cocktails, craft beers and a boutique all-American wine list.
More than 25 percent of the hotel's 136 guestrooms will be oversized suites with all guestrooms either offering direct views of Parkview Field or the downtown skyline.
Hampton Inn & Suites by Hilton hotels offers warm surroundings, a friendly service culture and a staff that makes sure guests are 100 percent happy. Guaranteed. Upon completion, the hotel will offer the brand's signature amenities including free hot breakfast, complimentary WiFi, a 24-hour business center and an oversized rooftop fitness center. All guestrooms and suites will include HDTV and free in-room movie channels.
Hampton Inn & Suites by Hilton Fort Wayne Downtown is part of Hilton Honors®, the award-winning guest-loyalty program for Hilton's 16 distinct hotel brands. Hilton Honors members who book directly through preferred Hilton channels have access to instant benefits, including a flexible payment slider that allows members to choose nearly any combination of Points and money to book a stay, an exclusive member discount that can't be found anywhere else and free standard WiFi. Members also enjoy popular digital tools available exclusively through the industry-leading Hilton Honors mobile app, where Hilton Honors members can check-in, choose their room and access their room using a Digital Key.
Read more about Hampton by Hilton at www.hampton.com.

About Hampton by Hilton
As the number one ranked lodging franchise for the past nine years, according to Entrepreneur®, Hampton by Hilton, including Hampton Inn by Hilton and Hampton Inn & Suites by Hilton, serves value-conscious and quality-driven travelers at more than 2,410 properties and more than 247,000 rooms in 25 countries and territories. High-quality accommodations and amenities, such as complimentary WiFi, free hot breakfast, and On The RunTM breakfast bags, contribute to Hampton by Hilton ranking as a leader in its segment. Hampton by Hilton Team Members deliver friendly, authentic, caring and thoughtful service defined as Hamptonality, with guest happiness being the number one priority, backed by the 100% Hampton Guarantee®. Hilton Honors members who book directly through preferred Hilton channels have access to instant benefits.
Related Images: