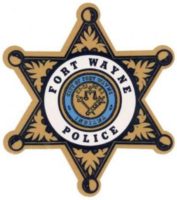 News release from the Fort Wayne Police Department:
Barricaded Suspect

Date: Tuesday, April 4, 2017

Time: 1:30 p.m.

Location: 1000 block of East Berry Street

Details:

Fort Wayne Police Department responded to the report of a domestic battery complaint in the 900 block of East Berry Street at approximately 1:30 p.m. this afternoon. Once on scene officers located an adult female who indicated that she was the victim of a battery perpetrated by a male acquaintance. The female was transported to a local hospital for treatment of non-life threatening injuries.

Based on information gathered by officers it was determined that the male was hiding in a residence located at 1021 E. Berry Street. Several attempts to convince the suspect to exit the home failed. At approximately 3:15 p.m. the decision was made to activate our EST and CRT teams. Once they were assembled on scene attempts by the CRT team to establish communications were made but unsuccessfully. At 5:10 p.m. members of the EST introduced a chemical agent in the home and after short period of time the suspect exited the home and surrendered to officers without incident. The suspect was transported from the scene to a local hospital for evaluation. Charges are pending.

This incident remains under investigation by the Fort Wayne Police Department and the Allen County Prosecutors office.
Related Images: