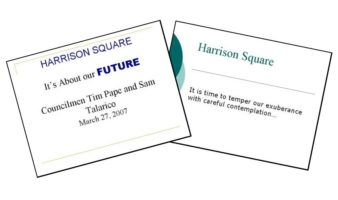 Tonight, ten years ago, two presentations were given by four City Councilmen to their colleagues during the Committee Session of the regular City Council meeting.
Presenting on the "pro" side of the then proposed Harrison Square project, were Councilmen Tim Pape and Sam Talarico, Jr.
Councilman Tim Pape (D-5th):
Focused on Quality of life, and attracting young people to our area.
Cited a survey that said 83.4% of respondents agreed with a need for continued investment in the downtown area.
$14 million of unrestricted funds would be turned into an immediate investment of $130 million with a potential of $160 million.
Between 1995 and 2005, the downtown only saw $2 million of private investment. "Can we say no to this?"
Councilman Sam Talarico, Jr. (R-At Large):
"We don't currently have a ballpark, it's a stadium in the middle of a parking lot."
Harrison Square will stimulate retail and residential developement downtown.
Minor League Baseball provides affordable family entertainment and a ballpark downtown would increase attendance for the team.
In Oklahoma City, property values around their stadium increased 230%.
Presenting for the "con" or opposition side to the Harrison Square project, were Councilmen Don Schmidt, Tom Smith, and John Shoaff.
Councilman Don Schmidt (R-1st):
Because of the way the project's financing was structured, the Baseball stadium cannot exsist without the hotel, and the hotel cannot exist without the stadium.
Hardball Capital (owner of the then Wizards, future TinCaps) was investing $16.5 million in the project while the City's portion was $60-65 million.
Should public money be spent on new amenities which duplicate exisitng facilities?
Can the Coliseum recoup the loss from parking, concessions and lease payments?
Should the condos (at this point, they were condos, not rental units as eventually became the case) be built elsewhere? Perhaps on the riverfront?
"We need to temper out exhuberance with careful contemplation."
Councilman Tom Smith (R-2nd):
Talked about young people and their desire for riverfront development.
Harrison Square is in the wrong direction.
Put the hotel at the corner of Harrison Street and West Jefferson Boulevard, but take Harrison Square to the former OmniSource property.
Councilman John Shoaff (D-At Large):
"There is no statistically significant positive correlation between sports facility construction and economic development."
The current stadium is not physically obsolete, but rather economically obsolete.
Shoaff also expressed concern about Hardball Capital hardly putting any investment into the project when compared with the City's investment – and the City paying the entire cost of the stadium, again with no financial input from Hardball Capital.
He also expressed issues with Hardball Capital not being local and all of their profits from the City-paid for stadium being funneled elsewhere.
All in all, a very interesting evening. with lots of things to ponder.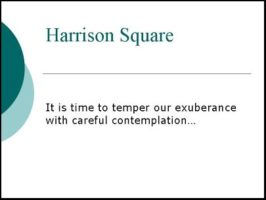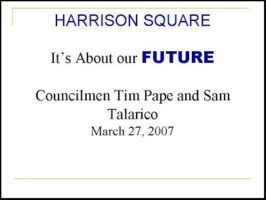 Related Images: